Scrimmage answers questions for Vols
Lee Williams to get ready for season opener at Kingman

Originally Published: August 21, 2016 6 a.m.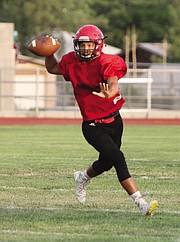 KINGMAN – Football scrimmages are about figuring out what the team is good at and what it needs to get better at. That was certainly the case for Lee Williams Friday night in its scrimmage against Wickenburg at LWHS.
"We saw some of our strengths and we saw some our weaknesses," said LWHS coach Jacob Iodence. "We saw some young men who came to play and some who didn't. We answered some questions we needed to answer and that's what tonight was about – us getting better."
When it was first team against first team for the first 40 plays, Wickenburg dominated the Volunteers. Lee Williams had 59 yards on 12 carries with two fumbles, one of which was lost. The Vols completed 4-of-7 passes for 37 yards without finding the end zone. All stats are unofficial and tallied by the Miner.
Wickenburg crossed the goal line three times. The Wranglers rushed for 138 yards on 17 carries, including touchdown runs of 26 and 43 yards. They threw once, a 60-yard completion for a score.
"Every mistake we made tonight is a simple fix," Iodence said. "Every good thing we saw was something that we taught and that's the fundamentals. We saw a lot of the fundamentals we talked about, and our weaknesses are things we can fix in four days. We're just going to keep getting better."
The final 60 plays were second team, JV and a mix of all three at times personnel wise. Those squads did well against Wickenburg.
The Wranglers didn't score again until the final play of the scrimmage on a 39-yard TD run. Wickenburg totaled 70 yards in this span of plays.
Lee Williams put up two scores while gaining 191 yards. Christian Martinez ran in a touchdown from 40 yards, and quarterback Cameron Ott connected with Aaron Santos for a 70-yard touchdown pass.
"The truth of the matter is that no matter how you feel after a practice or a game, it's never as good as you think or as bad as you think," Iodence said.
"We'll see some things on film we didn't see live and that will continue answering questions for us and help us find a way."
Lee Williams opens the regular season at 7 p.m. Friday at Kingman High.
More like this story
SUBMIT FEEDBACK
Click Below to: