Another new start for the Bulldogs football
Kingman still looking for its first winning season this century

Originally Published: August 26, 2016 6 a.m.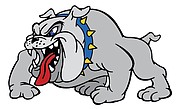 RELATED STORY
KINGMAN – If there ever was a school that needed to win some football games, it's Kingman High. The Bulldogs haven't experienced a winning season since 1999, and the closest they've come since are two 4-6 seasons. The past two years the Bulldogs went 1-20 and a new coaching staff is at KHS trying to get this program turned around.
Coach: Cam Wierson takes over for the Bulldogs coming from Missouri Valley College. Troy Emrey from Lamar University is the offensive coordinator, and Greg Chastain from Smithville High in Kansas City, Mo., joins the staff as defensive coordinator. The KHS coaches are bringing in a new culture of commitment and discipline to push the Bulldogs forward.
Team: Kingman's win-loss record over the years shows that the Bulldogs have a long way to go. They have an opportunity to get some wins this year with a softer schedule in this year's 3A Conference than last year's D-IV opponents, but they're going to have do it working as a unit.
Offense: This year's version of the Bulldogs is going to be organized and not so reliant on the big play. What troubled the Bulldogs the past two years was the offense putting the defense on its heels. That isn't expected this season.
Offensive Starters: QB Darrell Mitchell, RB Austin Reed, RB Chris Gunoe, H Cody Turner, H Josh Baker, WR James Carter, WR Damon Heidorf, WR Leon Salinas, WR Nick Moore, OL Gage McKowan, OL Bryce Benavidez, OL Paul Jones, OL Kyle Ferguson, OL Travis Pisha.
Defense: This unit could keep Kingman in some ballgames. Chastain is demanding, and his passion for defensive football should catch on. The Bulldogs return All-City linebacker Damon Heidorf, who should anchor the squad.
Defensive Starters: DL Nick Moore, DL Kyle Ferguson, DL Josh Baker, DL Jason Sorenson, LB Gabe McKowan, LB Jeremy Stewart, LB Darrell Mitchell, CB Jose Mata, CB James Carter, S Damon Heidorf, S Leon Salinas, S Phillip Monarque.
3A Conference West Region: Kingman, Chino Valley, Phoenix Northwest Christian, Buckeye Odyssey, Mohave Valley River Valley, Wickenburg.
The Big Question: It's been the same for years with every new coach. Is this the coach to turn the Kingman Bulldogs football program around and headed toward a winning season?
Wierson and his staff have been working hard to do just that, but it needs to translate on the field. There's no question it can be done, it's a question of who can do it.
Season Opener: Bulldogs vs. Lee Williams at 7 p.m. today at KHS. The teams have only met once in history, and it was the Volunteers getting the win over Kingman last season, 42-20.
More like this story
SUBMIT FEEDBACK
Click Below to:
This Week's Circulars
To view money-saving ads
For as little as $3.49*