Lee Williams seeks golf playoffs, Kingman in building mode

Originally Published: August 26, 2016 6 a.m.
KINGMAN – It seemed like it came almost out of the blue last year when the Lee Williams girls golf team finished tied for 10th at the Division II state tournament.
The Lady Vols have four of those five golfers back for this season and tying for 10th may not be good enough.
"Our goals are not only to return (to state) but to finish in the top five," said LWHS girls golf coach Haley Bradley. "The kids already have their minds set on going and to finish better this year."
Paige Lucero is expected to hold the No. 1 spot for the Lady Vols, followed by Sarah White. Kadence Sterling and Audra Coffman will compete for No. 3 and the other gets fourth. Kaylee Moore and Claire Barker are after the fifth spot. Sara Lynch and Lillianna Robles are also on the roster and both of them have the potential to be strong assets for Lee Williams.
Lucero, White and Sterling spent a lot of time over the summer practicing for the season.
"It's something that I love about these three," Bradley said. "They're very determined."
Lee Williams opens the season against Kingman at 3 p.m. Monday at Cerbat Cliffs Golf Course.
Vols aiming for section, state
KINGMAN – After finishing second in section to Prescott Valley Bradshaw Mountain, the Lee Williams High boys team is taking aim at the 10-team Division II, Section VII title and its automatic bid into the state tournament at season's end.
Lee Williams returns junior captains Brandon Carver and Cole Morton, both of whom were First Team All-Region. Senior captain Chase Williams returns to the Vols after living in Bagdad his junior year.
"Chase left us having won two individual matches as a sophomore," said LWHS boys golf coach Stephen Shuffler. "We are looking forward to having his solid play back on the team while also providing a senior presence."
Other returners who should provide depth for the Vols are seniors Jack Kirby and Jacob Cossio, and juniors Tanner Leo and Connor Hardy.
At the same time, Lee Williams can develop its future with a total of 18 golfers on the squad. Sophomores Wyatt Talk, Robert Glushenko II, Barret Fulton and Matthew Esquibel join freshmen Matthew Delk, Brycen Rodriguez, Bryant White and Daniel Stickrath.
"We had another great turnout this year," Shuffler said. "I look forward to getting my men mentally and physically ready for our upcoming season."
Along with the section title and state tournament berth, Shuffler said his team will represent its school and community in an honorable way and grow as individuals through the sport.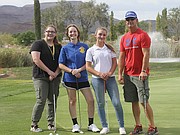 Lady Bulldogs still building
KINGMAN – There's no doubt the Kingman High School Lady Bulldogs golf program is in resurrection mode.
Kingman has one returner and three newcomers. The returner, senior Anna Dunn, enters the season in only her second year of playing golf.
"Even though last year was her first year of playing golf, I expect some good things from her," said KHS girls golf coach Ron Bowman.
The Lady Bulldogs have three golfers who have begun to play the sport just this year. Senior Cheri Roundy and juniors Tiara Hunter and Gisele Jablonski join Dunn on the squad.
"I feel that their work ethic and wanting to learn that they will have a great year for being beginning golfers," Bowman said.
Kingman needs four golfers to qualify in match play and the Lady Bulldogs are at the minimum. Lineups consist of five golfers with the top four counting for the team score.
Bulldogs working to get better
KINGMAN – The three returners for the Kingman High boys golf team have improved over the offseason.
Senior Derek Brown and sophomores Matthew Mendez and Hayden Tanner are back to lead the Bulldogs. KHS boys golf coach Chad Baitinger hopes junior transfer Landin Jones' experience puts him the five-man lineup.
Senior Britton Ogle and sophomore Sid Jensen are relative newcomers to the sport, but Baitinger does expect them to work hard and improves as the season moves along.
More like this story
SUBMIT FEEDBACK
Click Below to:
This Week's Circulars
To view money-saving ads
For as little as $3.49*