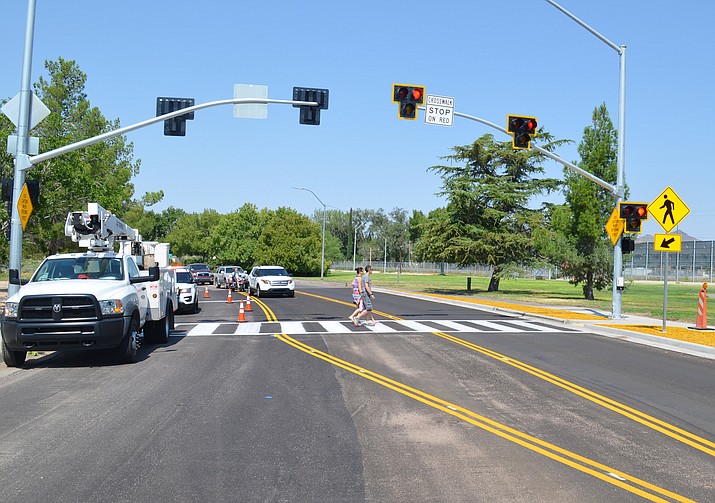 Photo by Aaron Ricca.
Originally Published: August 26, 2016 6 a.m.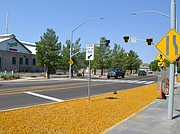 KINGMAN – The splat factor between the Kingman Powerhouse Visitors Center and Locomotive Park has been greatly reduced.
The Arizona Department of Transportation, in conjunction with the city of Kingman, went live with a pedestrian-activated crosswalk signal on Route 66 near First Street Tuesday night.
The signal will give pedestrians a designated path across Route 66 with a light to control traffic.
The project came about during a traffic impact analysis in 2013 shortly after the construction of Lee Williams High School.
"We recognized the need for pedestrians to cross," said Assistant City Engineer Frank Marbury. "We also noticed a crossing issue with the Powerhouse."
Funding came from a grant through the National Scenic Byways Program, administered by the U.S. Department of Transportation, Federal Highway Administration. Marbury said the signal cost approximately $334,000 for design and construction. Per grant requirements, the city matched 20 percent – $66,760. The grant covered the rest. Route 66 was eligible for the money since it is designated a scenic byway. Construction of the signal was managed by ADOT.
"The signal itself was the recommendation of traffic safety committee and the project approved by city council," Marbury said.
There are currently no other major projects planned downtown.
More like this story