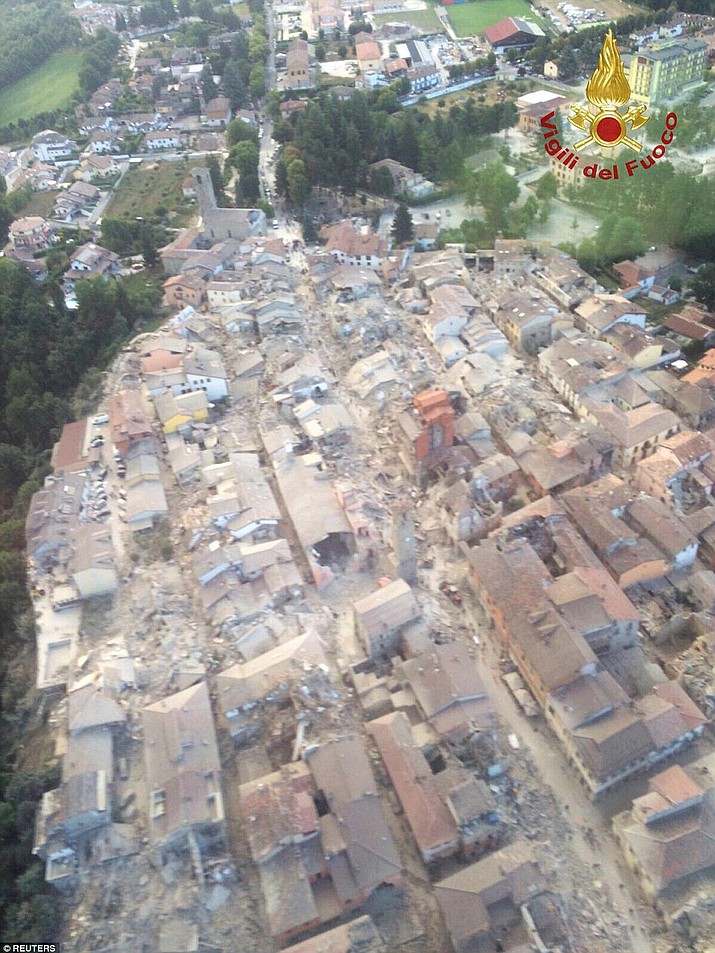 Originally Published: August 26, 2016 5:57 a.m.
How to help
To donate to Amatrice earthquake survivors, visit http://www.cri.it/flex/cm/pages/ServeBLOB.php/L/IT/IDPagina/31392
AMATRICE, Italy (AP) – New York City's World Trade Center is honoring the victims of the earthquake in Italy.
Gov. Andrew Cuomo on Thursday directed the building's 408-foot (124-meter) spire be lit in the colors of the country's flag – green, white and red.
Wednesday's earthquake killed at least 250 people in Amatrice and other towns in central Italy.
In a statement, Cuomo extended his condolences to the victims and said New York stands ready to lend support.
Premier Matteo Renzi has authorized a preliminary 50 million euros ($56.5 million) in emergency funding and ordered the cancellation of taxes for residents of quake-hit central Italy.
Thursday night's announcement represented the Italian government's first relief measures following the Wednesday disaster.
Renzi also unveiled an initiative called "Italian Homes" to address chronic criticism of shoddy construction standards nationwide. But he called suggestions that Italy could construct earthquake-proof buildings "absurd."
He said it was difficult to imagine that this week's death and destruction "could have been avoided simply using different building technology. We're talking about medieval-era towns."
Italian authorities have arrested a man caught trying to loot homes in Amatrice, an Italian hilltop town devastated in this week's earthquake.
The news agency ANSA reported that police arrested a 45-year-old man from Naples who tried to break into an abandoned home. When he saw police he tried to flee but was caught and, after a scuffle that caused minor injuries to the officers, he was arrested.
ANSA reported that the man has convictions for drugs and other crimes.
The Venice International Film Festival says it is cancelling a traditional gala dinner and reception on the opening day of the festival in a gesture of solidarity with the victims. The celebrations were to have taken place on a beach following the opening ceremony next Wednesday.
Organizers said in a statement on the festival website they are cancelling those festivities out of "extreme sorrow" and in a show of support for the communities struck by the tragedy.
Venice annually hosts one of the top-tier festivals for premieres of feature films, along with Cannes and Toronto.
Italy's civil protection service says the provisional death toll for the earthquake in central Italy has risen to 250 people.
It says the number of injured stands at 365.
Civil protection officials released the revised numbers at a briefing Thursday afternoon in Rome.
Italian firefighters are escorting earthquake survivors back to their homes – temporarily – to get some belongings left behind when they fled the shaking.
Many homes in the three hardest-hit central Italian towns, even if they remain standing, have been declared uninhabitable by rescue crews. But since it looks like residents will be homeless for some time, firefighters are letting them get what they need.
Nello Caffini on Thursday carried the belongings of his sister-in-law, Maria Pia, on his head as he left the home in the small town of Pescara del Tronto.
He said they slept in the car Wednesday night even though he has a home in nearby Ascoli.Aftershocks have rattled the area.
Caffini says "If she feels calmer, we will go back to Ascoli."
A strong aftershock with a preliminary magnitude of 4.3 caused more damage to buildings in a town nearly destroyed a day earlier.
The aftershock caused one building to partially collapse, sending up plumes of smoke and panic in Amatrice.
Operations chief Immacolata Postiglione said the toll was lowered from the 247 she had reported earlier Thursday due to a revision from the area of Arquata in Le Marche region.
The vast majority of the victims, 195, are from Amatrice and Accumoli in the Lazio region closer to Rome.
She stressed that the number remains provisional and that the search continues.
A Polish woman who survived the earthquake says she will never forget the "evil murmur of moving walls."
Ewa Szwaja told Polish TVN24 Thursday that she and her husband were woken in the town Amatrice by tremors and a "terrible noise." She grabbed her 4-year-old son, wrapped him for warmth and the family escaped through the balcony.
"We knew it was an earthquake," she said. "I will remember till the end of my life this noise, the evil murmur of moving walls."
She said neighbors Sergio and Assunta and their 13-year-old grandson didn't survive.
She said: "The house in front had collapsed and we stepped from the balcony onto the rubble. The bedroom of our neighbors did not exist anymore."
Romania's foreign ministry says that five Romanians have died, and 11 are missing, updating earlier figures.
Ionut Valcu, foreign ministry spokesman, said Thursday that four Romanians were being treated for injuries in hospitals He did not provide details on the identity of those who died or were injured.
Romania consular officials have traveled to the area.
Media reports say some 8,000 Romanians live in the area.
Italy's culture ministry has decreed that proceeds from public museums across Italy this Sunday will be dedicated to helping restore damaged buildings in the quake zone.
Several churches and other medieval-era buildings were damaged or destroyed in the 6-magnitude earthquake.
In a statement Thursday, Culture Minister Dario Franceschini urged Italians to go out in force on Sunday to visit museums and Italy's numerous archaeological sites "in a concrete sign of solidarity" with quake victims.
The civil protection agency gave the updated figure early Thursday, about 27 hours after the earthquake struck. The tremors reduced three towns to rubble and sparked urgent search efforts.
Norcia, which is about 170 kilometers (105 miles) northwest of Rome, was the epicenter of Wednesday morning's 6.2 earthquake that leveled the central Italian towns of Amatrice, Accumoli and Pescara del Tronto, and killed at least 159.
Italian rescue workers are expecting fewer casualties than initially feared at the site of a hotel that was badly damaged.
Officials initially said about 70 people had been staying at the Hotel Roma in Amatrice when the quake struck.
But an official with Italy's civil protection agency, Luigi d'Angelo, told Sky TG24 that about 35 people had been staying at the hotel, and most had managed to get out. Carlo Cardinali, a local fire official taking part in the search efforts at the hotel, estimated that about 10 guests were missing.
Among the victims was an 18-month-old girl whose mother survived the deadly earthquake of 2009 in nearby L'Aquila and moved away from there after that terrible experience.
The news agency ANSA reported that the toddler, Marisol Piermarini, was sleeping in her bed in the family's vacation home in Arquata del Tronto when the quake struck early Wednesday.
Her mother, Martina Turco, survived the earthquake that struck L'Aquila, killing more than 300 people. Now she is being treated in a hospital after being pulled from the rubble as the family mourns the death of the little girl.