KPD Detective Dennis Gilbert is back at work, continues to recover from Sept. 29 shooting
'It was a really thankful Thanksgiving'
By
Aaron Ricca
|
ARicca2
Originally Published: December 4, 2016 6:04 a.m.
KINGMAN – After surviving a gunshot wound while serving a search warrant in late September, gratitude continues to overwhelm Kingman Police Detective Dennis Gilbert, who returned to duty Tuesday.
The 17-year KPD veteran (and retired United States Marine Corps bomb technician) was wounded by Jeffrey Cave, 53, who fired at officers when they arrived at his Miami Avenue home with a search warrant for a stolen firearm Sept. 29. Gilbert and Detective Nick Schmitz returned fire, killing Cave. An investigation by the Mohave County Attorney's office ruled the officers were justified in using deadly force.
Body camera footage of the deadly incident was provided to the media, but Wednesday's interview with Gilbert and Deputy Chief Rusty Cooper was to discuss Gilbert's recovery and not to delve into the details of the shooting.
Gilbert was hospitalized for six days after the shooting. He spent nearly two months on paid administrative leave. He'll be on light duty until Dec. 21, meaning he'll spend more time tracking down bad guys from a desk rather than the streets.

"I got some cases still assigned to me. You know how many emails you have after two months," he quipped.
Gilbert is surrounded by first responders, both at work and at home.
His youngest son Jeffrey is a firefighter and paramedic with the Kingman Fire Department, and was one of the first responders on scene that day.
Jeffrey rode in the ambulance with his father.
His oldest son Joseph is a Flagstaff police officer. Gilbert said the FPD chief was willing to fly Joseph to Kingman after the shooting, but learned Gilbert was stable enough for the son to drive.
Kimberly, Gilbert's wife of 32 years, is a registered nurse on the night shift at Kingman Regional Medical Center.
She wasn't on duty, but KPD Sgt. Joel Freed picked her up from her mother's house (where she slept for peace and quiet after the late shift) and immediately rushed her to the hospital.
It didn't take long for the community to come together to support the Gilbert family.
Overwhelming Community Support
Gilbert gave nothing short of his heartiest commendation for the entire law enforcement community and the KRMC hospital staff.
"I wanted for nothing, my family wanted for nothing," he said. "Everybody has been wonderful."
Gilbert said KRMC designated a room – complete with food, coffee and soft drinks – specifically to brief the immense volume of concerned family and responders.
"They're actually implementing something at the hospital," Cooper said. "So – if God forbid, this ever happens again – they can handle the influx of concerned people."
Clearly, Gilbert experienced a close call that day, and he'll carry a souvenir for the rest of his life. Put another way, he might have difficulty getting through airport security in the future.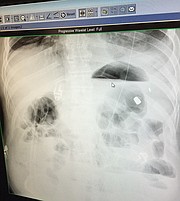 The bullet went through an arm and into his chest, breaking two ribs, collapsing his left lung and piercing his diaphragm. The bullet is still lodged behind his spleen.
"It would be more dangerous to go get it," he said. "So (the surgeons) left it in there."
Community Pitches In
While Gilbert was in the hospital and even after he got out, local members of the Arizona Department of Public Safety's Highway Patrol Division and Mohave County Sheriff's Office provided food for the family.
"They didn't cook for two weeks," Gilbert said.
He got more than 200 get well cards, including one from an Ohio woman whose policeman father was killed when she was seven years old. He was amazed at the extent of lives this incident touched.
"The small community is just super," he said. "Just the community outpouring in general."
Unintended Vacation
Gilbert said the most physically and mentally challenging parts of not being at work was boredom. Almost all chores were nixed from the stay.
"When I first got shot, my surgeon told me I could lift no more than five pounds," he said. "It all sounds good being at home for two weeks. My wife is a registered nurse and she wouldn't let me do anything."
He caught up on reading and threw in a few Netflix binges. As soon as he could stop taking narcotics, he would take drives just to get out of the house.
After the Chaos
Gilbert praised the rapid response that saved his life moments after the shooting.
He was standing directly in front of Cave's door when Cave fired. In the body camera video, Gilbert is the detective knocking on the door. He vaguely remembers his fellow officers and detectives dragging him away from the scene, patting him down and checking for injuries. He remembers Detective Heath Mosby holding his hand and comforting him.
"I don't remember exactly what he was saying," he said. "I was in a lot of pain."
Immediately after the shooting ended, the team used emergency first aid kits attached to their body armor to treat both Gilbert and Cave. After the shooting was over, saving lives became priority.
"They were giving life-saving endeavor towards (Cave) inside the residence," Gilbert said. "We're not here to kill anybody."
Cooper said the teamwork carried to the emergency room, comforting Gilbert.
"When he was in the hospital, just knowing that everyone is there," he said. "It just matters that there's people there caring for you."
Duty Calls
Gilbert was anxious to get back to work. He had paid regular visits to his office at the department during his leave. He was encouraged to take it easy and not push himself.
"Several times a week I saw him," Cooper said.
People kept asking Gilbert if he planned to retire. He's got 17 years in and can retire at 20.

"I was like, 'No,'" he said. "It didn't even enter my mind."
"We always know there's a chance we can get shot. You just try to minimize your exposure," Gilbert said. "It just sucked that day."
Gilbert is more worried about his policeman son.

"Be careful out there," he said.
First Day Back
Tuesday started with a department head meeting and the daily briefing. There wasn't a lot of fanfare. Everyone had been supportive through the ordeal.
Gilbert has always been close to his friends at the department, but he's even closer now.
I think the shooting was harder on everyone else than it was on me," he said.
There's no particular task he's ready jump at. He's just glad to be back on the job.

"I'm just impressed with the city of Kingman in general. The outpouring and that blue lives do matter," he said.
"It was a really thankful Thanksgiving."
More like this story
SUBMIT FEEDBACK
Click Below to:
This Week's Circulars
To view money-saving ads
For as little as $3.49*