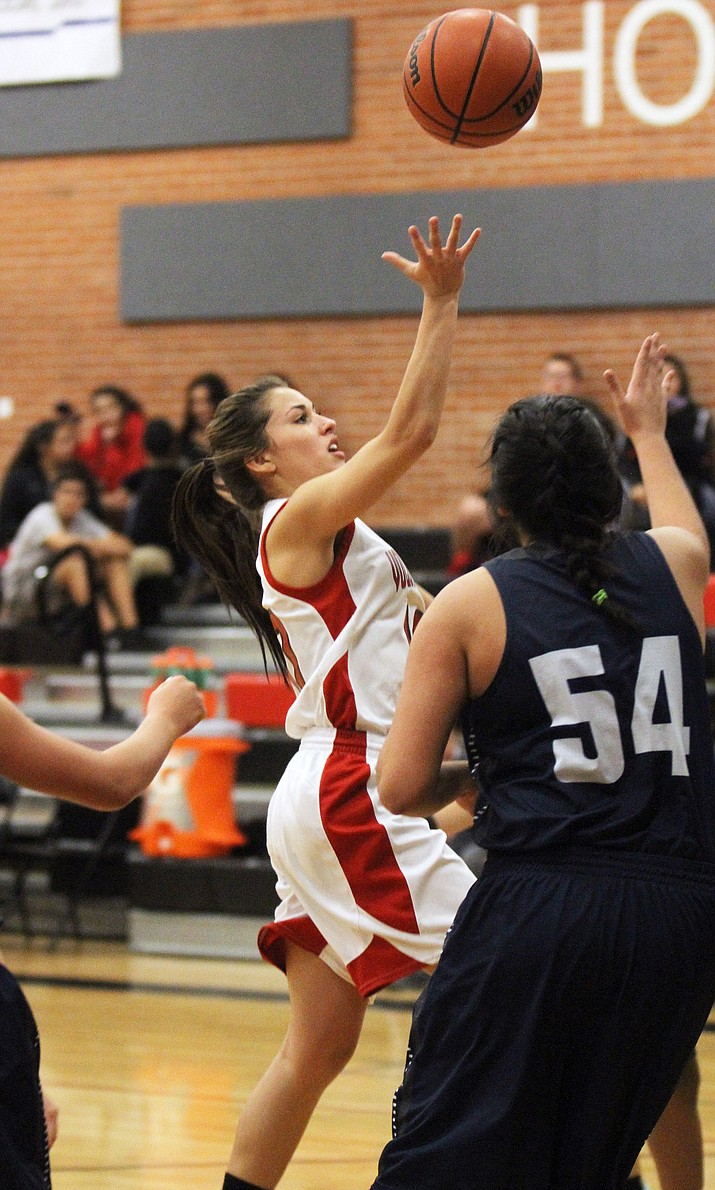 Photo by JC Amberlyn.

Originally Published: December 11, 2016 6:01 a.m.
KINGMAN – Madi Arave scored on a breakaway layup and a free throw in the final moments as Lee Williams held off a fourth-quarter charge by Tempe for a 4A Conference non-region win Friday at LWHS, 35-29.
Lee Williams (7-2 overall, 3-2 conference) was in complete command with a 27-8 lead at the six-minute mark of the third quarter. The Lady Vols led 30-19 at the end of the quarter but then went scoreless until 3:07 was left in the game.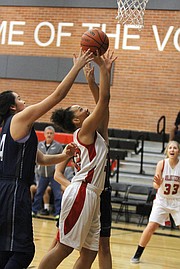 Tempe (1-4) went on a 10-0 run to close the gap to three (32-29) with 40 seconds remaining.
"We let down a little and started to relax," Arave said about the Buffaloes comeback. "We had to get together and told each other not to let up and push to the final buzzer. We changed our mindset that quick."
Lee Williams had an inbound pass with 32 seconds on the clock. Somehow, Arave got behind the defense, received the pass and scored that layup. Arave finished with eight points from her point guard position.
"They were focused on me going toward the ball (all game)," she said. "We changed it with me faking and going for the break. We ran it really well. It was good execution."
Chania Scott was the main force for the Lady Vols in the first half. She scored 11 of her game-high 14 points in the first two quarters.
"We found out after the Flagstaff game that we need to step our game up or teams are going to come in here and take over. I knew I had to be dominant."
Lee Williams fell to Flagstaff by 30 points on Tuesday.
The Lady Vols could put up 50 on the scoreboard against Tempe, but they missed a lot of shots from under the basket.
"That's our Achilles heel. Well, that and turnovers," said LWHS girls basketball coach Jerry Arave. "We didn't turn the ball over, but we missed easy shots."
Sadie Snay scored eight points for Lee Williams. Cassidy Torrey, who had a thrilling assist with an overhand half-court pass to Arave for a layup in the second quarter, finished with three points. Madi McGlathery chipped in two.
C. Castro led Tempe with six points.
Lee Williams (0-1 Grand Canyon Region) next hosts Bradshaw Mountain (3-2, 0-2) in a region contest at 5:30 p.m. Monday.