Las Vegas man proposes $1 billion for Kingman airport
Originally Published: December 12, 2016 6:04 a.m.
See Related Story
http://kdminer.co...">$1 Billion Flight Plan: Officials: 'This guy is from 'The Twilight Zone''
KINGMAN – A billion here, a billion there. Pretty soon you're talking serious money.
James Heldman proposes to buy Kingman Airport and Industrial Park for $1 billion, which would include all airport property, current leases and contracts of airport management.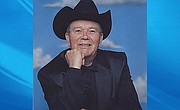 Heldman, chief executive officer of Crown Western Co. in Bullhead City, is working with Timber Crest Consulting, a venture capital investment group from Las Vegas that would fund the purchase as Air Cargo Arizona Corp.
Heldman said the new owners would rebuild the runway to its maximum 15,600 feet with heavy concrete and build a new control tower. They would also build new hangars to serve Boeing 757s, along with new distribution facilities on the south side of the runway.
"I submitted an official proposal to the new mayor, and she pulled it from the (Dec. 6) agenda," Heldman said in an email to the Daily Miner. "However, I am expecting her to put it back on the second meeting this month."
Kingman City Clerk Sydney Muhle confirmed Friday that Heldman has submitted a proposal to purchase the airport and industrial park.
"However, the city has not been able to verify all of the information in it, so we're still in conversation," Muhle said. "The timing fell kind of weird with the election, too. He met with (former) Mayor (Richard) Anderson, and then kept it going with Mayor (Monica) Gates. With the transition happening, the city is trying to figure out what's going on."
City attorney Carl Cooper is reviewing the proposal and verifying information, she said.
Heldman plans to improve the airport for community transportation, giving "first-class service" to passengers and executives and building a state-of-the-art terminal with a three-story parking garage.
The airport is ripe for development as a cargo distribution center, with concrete taxiways for cargo jets, large hangars for service and repair and new distribution buildings, Heldman said.
He guarantees employment of not less than 1,000 high-paying jobs, and as many as 10,000. Depending on technical skills, employment could swell to 15,000, Heldman added.
Timber Crest proposes to pay $100 million a week starting in January until the $1 billion is paid in full and airport property title is transferred to either Timber Crest or the new entity, Air Cargo Arizona.
"We will have immediately available $10 million in earnest money at the time of the scheduled meeting of the City Council, and should they approve, transferable to the city upon completing the contract," Heldman said.
The new owners would buy out the long-term contracts of Kingman Airport Authority Executive Director Dave French and Economic Development Director Bob Riley for a "reasonable amount," he said.
The proposal comes at a time when the airport has come under scrutiny for its operational progress and revenue growth.
The election of a new mayor and three new council members hinged on their campaign to bring changes to Kingman Airport Authority, which oversees the 4,000 acre airport and industrial park.
Travis Lingenfelter, one of the newly elected councilmen, was a force behind the formation of PEAK, or Partnership for Economic Development in Kingman, whose goal is to bring more business to Kingman Airport after years of stagnation.
He noted that no business has opened at the industrial park and no new construction has occurred in the past six years.
Paul Gaines, who owns an airplane fabrication business at the airport, said he would never have relocated to Kingman from Atlanta had he known how difficult it is to work with the airport authority.
"I'm on the airfield committee to get things fixed and we're getting resistance," he told the Daily Miner in January. "It's a toxic environment between airport tenants and users, aircraft operators and the airport authority."
Heldman said the new airport owners would fund technical training for mechanics, welders and pilots at Mohave Community College. The military would have full access of the runway as needed for use in a national emergency or limited touch-and-go training.
"We hope that your City Council members will approve our offer and that we will have a long, successful relationship," Heldman said.
"Our project budget is $5 billion."
Related Stories
More like this story
SUBMIT FEEDBACK
Click Below to:
This Week's Circulars
To view money-saving ads
For as little as $3.49*