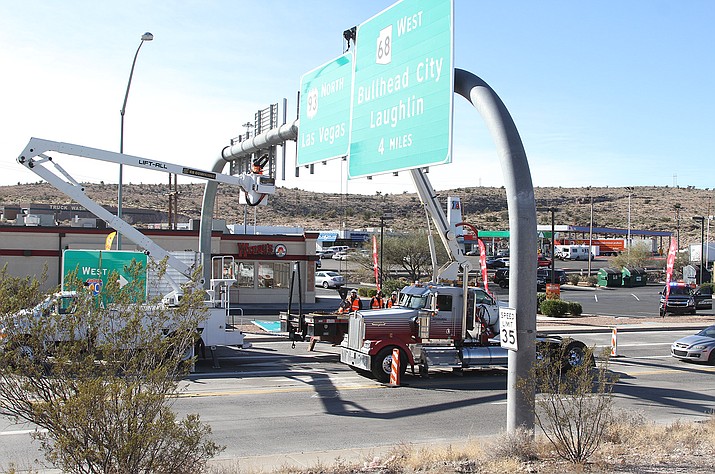 Photo by JC Amberlyn.
Originally Published: December 20, 2016 2:24 p.m.
KINGMAN – Motorists at Kingman's busiest intersection can expect delays Tuesday because of construction work at Interstate 40 and U.S. Highway 93.
The Arizona Department of Transportation is scheduled to complete work at the traffic interchange from westbound I-40 and U.S. 93 at Beale Street, capping off a $314,000 improvement project in downtown Kingman.
Delays of up to 30 minutes can be expected from 9 a.m. to 2 p.m. Tuesday while ADOT crews replace a traffic signal and set the signal's timing. Consider alternate routes to avoid the delays.
While undoubtedly frustrating for motorists, the work ADOT has completed to date should ease the heavy congestion that has plagued the intersection for years.
A flagging operation will be in effect during that time, and law enforcement will help with traffic control. Drivers should use caution and keep an eye out for construction workers and equipment.
ADOT works to inform the public about planned highway restrictions and closures, but there may be weather or other factors that could change the schedule. Go to www.az511.gov for the most current information.