New man in the White House doesn't dampen gun sales
Kingman firearm outlets can't keep guns, ammo in stock
By
Aaron Ricca
|
ARicca2
Originally Published: December 20, 2016 6:04 a.m.
KINGMAN – 'Twas the week before Christmas and all through the town, three gun retailers were visited, but none with a frown. Bank Street Guns, Pawn World II and S.H.O.T.S. Foremost Outfitters are either rolling product out the door or waiting for more to come in.

Christmas gun sales would've been good regardless of the outcome of this year's presidential election.
Bank Street Guns owner Benjamin Moyer said the gun sale climate is hot, but this season's business is still catching up to the record breaking fervor of 2015. When 14 people were gunned town after a terrorist attack at the Inland Regional Center in San Bernardino, California, aggravating the already buzzing sociopolitical wasp nest of gun rights, customers made a mad dash to scoop up guns and ammo.

"Last year was the perfect storm with everything going on," Moyer said. "People were grabbing anything they could."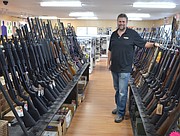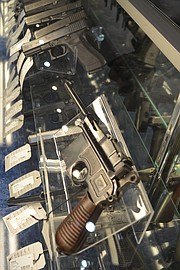 He said people would practically grab a gun from the rack and head straight for the register. Now that Donald Trump won the election, people are shopping smarter.
The shop sold 40 guns on Black Friday this year – the average is 15 a day. The Bank Street Gun Christmas season is Nov. 1 to Dec. 31. Sales are up 15 percent as of Friday, compared to last year's record sales. If they have a strong finish, they could close higher than last year.
The types of Moyer's sales have changed in the past year. In 2015, Glock and Sig Sauer pistols for home and personal defense were flying off the shelves. This year, there's a little bit of everything: tactical rifles and shotguns, hunting rifles and nostalgia pieces. Cased ammunition is another big seller. Sales of accessories, especially optics, have spiked.

Age demographics took a turn too. More millennials are shopping this year compared to the usual 40 and over crowd. Moyer also noticed a larger volume of California transplants buying guns.
The shop's indoor range and National Rifle Association certified classes, which meet requirements for an Arizona Conceal Carry permit, are another draw. Overall, Bank Street Guns is sitting pretty.
"I think everyone is relieved from the election," said Moyer.
S.H.O.T.S. Foremost Outfitters was almost the polar opposite. There were only 32 guns on display out of a normal 200-plus inventory.

"The election blew out my sales," said Manager Jeremy McCoy.
Everything in the store is 20 percent off, but the AR-15s and Mossberg tactical shotguns that were readily available two months ago are only attainable by special order now.
His ammo went with the guns. Customers hoarded 5000-round cases of .22 caliber shells and snatched up whatever tactical 7.63, 5.56, .223 ammo was left. He did have one customer purchase nine guns in one stop. He pointed out the 185,713 background checks done throughout the U.S. on Black Friday – more than any other day in U.S. history.

"It was a historic high," he said.
While McCoy waits for more inventory to roll in, McCoy will match or beat sales from other dealers.
"Christmas sales are slow," he said. "Everyone wants certain guns and we don't have them."
Pawn World II on Northern Avenue was dealing its fair share of used video game consoles, jewelry and guns Friday morning. Out of a stock of about 800 firearms, sales are "pretty good," according to salesman Tom Saluzzo.
They have a random, if not unique, supply of firearms, and like the other gun stores, the election impacted sales.
"The sale of tactical (guns) slowed down after the election," Saluzzo said. Handguns have been his biggest seller since then. There's never a steady cycle of what comes in to be pawned.

"Any given day you're never going to know what walks in here," he said.
The store winds up dealing a few classic odds and ends classics occasionally. Saluzzo had sold two German Lugers earlier in the week and had a Mauser broom handle pistol shining under the glass.
"It's never a bad time of year to buy a firearm," he said.
More like this story
SUBMIT FEEDBACK
Click Below to:
This Week's Circulars
To view money-saving ads
For as little as $3.49*