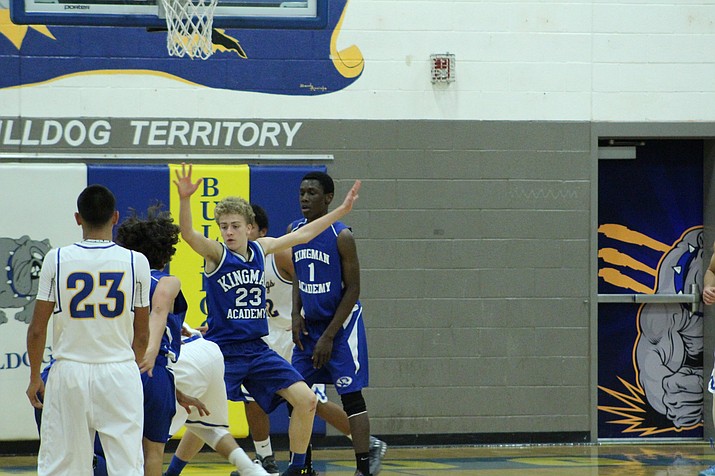 Originally Published: December 30, 2016 6:05 a.m.
KINGMAN – When Kingman Academy offered former pro basketball player Brian Devincenzi the head coaching job, he gladly accepted.
They didn't tell him his team would have to play their games in the school cafeteria, not only that, but the floor was tile and served as the auditorium, cafeteria, and gymnasium to boot.
"I'm looking at this floor and I'm an ex-professional basketball player," Devincenzi said. "I'm thinking, there is no lower quality floor on this earth than a tile floor for basketball."
The floor didn't deter him in taking the job. Devincenzi was impressed with how well the school maintained the surface. Whenever he looked at it he was impressed with the care the school provided. It was buffed, clean and the traction was great. He liked that his team wouldn't have to play its games on a slippery floor.
Later he finds out his team doesn't have a locker room. When he was told this, he was shocked and astonished the school didn't provide locker rooms for the other team.
"I said, excuse me!" "You're kidding right? Where does the other team dress?"
"Down the hall in a classroom," an official told him.
The school officials showed him two rooms that had been intended to be used for locker rooms. They showed Devincenzi the rooms that had been built to be locker rooms and were being used for storage. Containers full of supplies stacked to the ceiling.
Devincenzi started a campaign two years ago to raise money for the 40-ft. containers sitting outside at a cost of almost $5,000. After completing phase two, his team is ready for the next step to feeling like a basketball team.
On Thursday, the team will finally have a place to dress for games.
The Tigers will have their roar back as they get 14 lockers in their locker room and 14 for the visiting team.
Devincenzi's plan is to be able to add a shower facility for his team. They have hot and cold water.
"I have to give credit to a lot of people," Devincenzi said. "In the last three months people have stepped up and donated time and money to the Locker Renovation Project.
"We are to the point where every team that has come to play us has a locker room. Now they will have lockers."
Devincenzi has on his wish list a new gymnasium. For now he is happy with having lockers for his team.
More like this story