Storms expected to roll through over the New Year's weekend
Originally Published: December 30, 2016 6:03 a.m.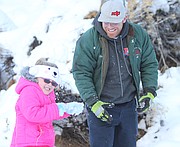 KINGMAN – Two storms are expected to roll through Mohave County in two days, bringing a chance of rain across the region and snow in the upper elevations, the National Weather Service reported Thursday.
There's a slight chance of rain this morning and into the evening, though most of the precipitation is expected to push across the region late Saturday afternoon and Saturday night.
Chance of rain will decrease to about 25 percent by the time the ball drops on New Year's Eve.
It won't be like last week, though, when Kingman received more than 2 inches of rain. NWS is forecasting 0.15 inch of rain from the first storm, and 0.11 inch from the second storm.
San Bernardino County has potential for rainfall up to one-half inch.
Beware of hazardous travel conditions due to slick roadways. As much as 2-3 inches of snow could fall in elevations of 6,000 to 8,000 feet.
Winds look to remain light, under 10 mph, throughout the weekend.
Today's high was expected to reach 58, with an overnight low of 42. Saturday's high-low will drop to 49 and 38, respectively.
More like this story
SUBMIT FEEDBACK
Click Below to: