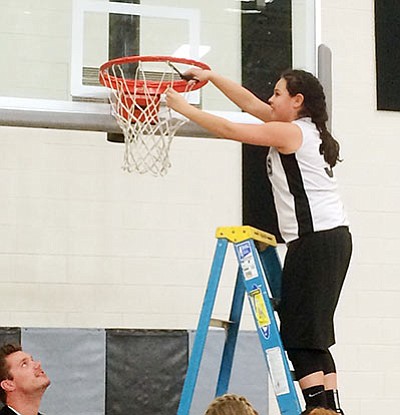 Originally Published: February 4, 2016 6 a.m.
KINGMAN - The White Cliffs Middle School Lady Wolves overcame a five-point fourth-quarter deficit to beat the Lake Havasu Thunderbolt Lady Cats 20-19 and claim to the 2016 Seventh Grade Girls Basketball Championship last Saturday at WCMS. Lia Lucero scored four points in the final 15 seconds to help lift the Wolves to the win, with the final bucket coming at the buzzer in front of a fan-filled gym on their feet.
Lucero finished with eight points. Emilee Araya scored six, and Mya Kropelin, Hailey Cronk and Faith Alto each had two.
To get to the championship game, the Wolves defeated the Kingman Academy Coyotes in a semifinal game, 26-25. LaNae Burgess contributed to the victory with seven points and Kremlin hit a late basket to secure the win. Kremlin finished with 10 points, Araya added five, and Cronk had four.
A. Sellars led the Academy with a game-high 11 points. Lindsey Day scored eight, and Paige Rust, B. Oktay and S. Elboyt each finished with two.
White Cliffs got past Needles, Calif., in the quarterfinals, 17-12. Kropelin and Alto led with four points. Araya, Cronk, Becca Ramirez, and Jillian Mitchell each scored two, and Burgess had one.
More like this story