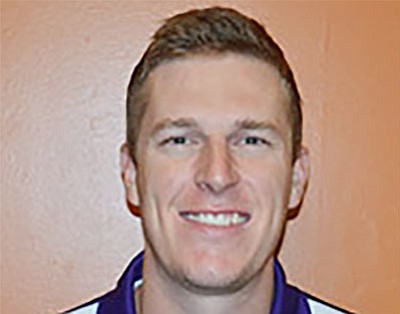 Originally Published: February 18, 2016 6:02 a.m.
KINGMAN - Cam Wierson likes the word fun. He likes it so much, he's going to build a football program around it.
Wierson, 29, has been chosen to be the new football coach for the Kingman High Bulldogs.
"We've got to make it fun," he said. "To me, that's a big word. I won a national title as a player in college, so I know what it takes. And we'll get to the work part, but I want the kids to realize that football is fun. And it's going to be fun if you are on this football team."
Wierson, a Tucson native who graduated from Ironwood Ridge High in 2005, was on the NCAA Division II national champion Northwest Missouri State team in 2009. Since then, he's been gathering football knowledge.
Wierson was a graduate assistant at the University of Texas - El Paso for the 2010 and 2011 seasons, returned to Arizona and coached at Tucson Marana High in 2012, and then spent the next two seasons at Angelo State in Texas. He was the defensive backs coach this past season for Missouri Valley College (6-5, 3-2), an NAIA school in Marshall, Mo., that plays in the Heart of America Athletic Conference.
"I've been fortunate to have been around some really good coaching," Wierson said. "I worked with an offensive line coach who spent two years at Alabama, and I worked with Texas A&M's special teams coordinator (Jeff Banks) at UTEP. We're going to be well-coached up front."
When Wierson was at Marana, he was the special teams coordinator and secondary coach for Andy Litten. Marana was a lot like Kingman in 2012, having won four games in three years. Litten now has Marana around .500 year in and year out and he gives a lot of credit to Wierson for that.
"I don't know if I could have turned it around without Cam," Litten said. "We still use a lot of what he implemented. I've got nothing but good things to say about him. The kids really liked him and how detail-oriented he was."
One of the reasons Wierson chose to come to Kingman was that he felt the buy-in from KHS principal Rusty Moomey and athletic director John Venenga.
"Rusty and John convinced me they are ready to win and are willing to do whatever it takes to help me do that," Wierson said. "John and Rusty get it. The lightbulb has come on and with the principal and A.D. behind you, you can fly quickly."
Wierson comes in with his eyes wide open and knows Kingman hasn't had a winning record since the turn of the century. He plans on recruiting the hallways to get more players, but he's also aware that he's not going to make it happen overnight.
"I'm going to work my tail off to make sure the place is abuzz about the football program," he said. "We're going to work to make the kids who aren't on the team jealous. But winning is recruiting. We're not going to build momentum winning just two games a season."
Though Wierson seems young at 29, he possesses an old coach's spirit and a self-awareness that manifests itself as he's admitted he doesn't know it all. But he does know a lot, and part of that knowledge is knowing he needs help. He's looking forward to getting to know not only KHS, but he's excited to get to know Kingman as a town.
"I want to see what makes the town and high school tick," Wierson said. "I want to find out what I need to do to fit in."
He's anxious to find out what the talent level is at KHS, and he'll be hosting a combine for all football players to help determine that. Just as the players have to train to get better, Wierson understands he needs to be training as well.
"I'm going to be a first-year head coach," he said. "I've to get sharp real quick. I'm going to get better, and Kingman football is going to get better."