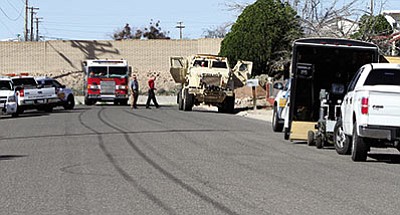 Originally Published: February 19, 2016 4:16 p.m.
KINGMAN - Police arrested a 29-year-old Kingman man Friday after he allegedly attacked and threatened a woman, threatened animals in the home and then barricaded himself inside while police tried to coax him out.
Todd Keightley was charged with domestic violence by aggravated assault and prohibited possessor of a firearm, both felonies, and domestic violence by assault, disorderly conduct, prohibiting the use of 911, and threatening and intimidating, all misdemeanors.
According to the Kingman Police Department, a 911 call at about 8:05 a.m. sent them to a house in the 700 block of Spring Street. After officers arrived, a woman and a child safely exited the home, but Keightly reportedly barricaded himself inside a room and had a shotgun and a knife.
Police closed off the area, evacuated neighbors and brought in negotiators. Lee Williams High School was placed on lockdown.
Keightly surrendered at 10:45 a.m. and was taken into custody. Police searched the residence. According to police, Keightly and a woman were involved in a domestic dispute in which he pushed the woman, took her phone to try to prevent her from calling 911, and threatened animals in the home with a knife while a child was inside. He was prohibited from possessing a firearm because of a previous arrest, police said.
Keightly was taken to the Mohave County jail.
The Arizona Department of Public Safety, River Medical and the Kingman Fire Department assissted. Kingman Police deployed the mobile command center, an armored vehicle and the bomb squad during the incident. No one was injured, and all units were clear at approximately 11:50 a.m.
Alcohol is believed to be a contributing factor.