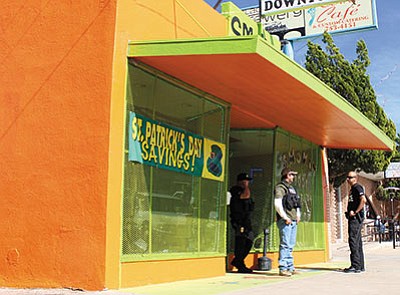 Originally Published: February 19, 2016 6:03 a.m.
KINGMAN - Law enforcement officers with local, state and federal agencies raided the Smokin' Body Jewelry and Smoke Shop at 417 E. Beale Street today in search of synthetic cannabis, which has no relation to natural marijuana. Raids were simultaneously carried out in New Mexico and Nevada.
According to Sean Waite, the assistant special agent in charge of the New Mexico Drug Enforcement Administration, the raids were in response to synthetic cannabis - known as Spice, or K2.
Agents with the Drug Enforcement Administration and the Mohave Area General Narcotics Enforcement Team, which includes members from a number of county law enforcement agencies and the Department of Public Safety, spent hours at the smoke shop and could be seen carrying out boxes.
Kingman Police spokeswoman Jennifer Sochocki said the raid was part of "an active and ongoing multi-state investigation, with international connections," that began a year and a half ago. Similar raids were carried out at the company's smoke shops in Nevada and New Mexico, said Sochocki.
The international connection, said Waite, involves China, where chemical cannabis is usually made and shipped to international markets disguised as something else. Waite said it is liquefied and sprayed on leafy substances designed to look like marijuana.
It is marketed as safe and legal to teens and people in their early 20s, he said, but it is neither safe nor legal. Unlike natural marijuana, there are documented cases of fatal overdoses and other "fairly serious" side effects, said Waite.
"It's not safe, although people think it is," he said. "Please don't call it synthetic marijuana because it is nothing like natural marijuana."
Waite said DEA agents in Flagstaff and Lake Havasu City participated in the raid along with MAGNET.
Last fall, smoke shop owner Lee Smith came under fire for the garish color scheme of splashy orange and chartreuse green he used to paint the exterior of the downtown business. It is unclear if Smith has been arrested.
"I have these colors to get your attention and I have done that really well, haven't I?" Smith told a Miner reporter in November.
According to the website www.spiceaddiction.org, the ingredients that go into Spice are similar to THC, the natural cannabinoid found in marijuana, but it affects brain receptors differently.
The synthetic cannabinoids can be up to 100 times stronger than the most potent marijuana, and many affect brain receptors that marijuana doesn't, leading to severe negative side effects, such as heart attacks, high blood pressure, blurred vision, vomiting, hallucinations, seizures and severe anxiety, paranoia and psychosis. There have been causes of death attributed to the use of Spice.
The drug was first sold in the United Kingdom in 2004 and spread internationally within two years, with most people believing it was a harmless mix of herbs that was legal to ingest.
That isn't the case. Spice is illegal in most countries, including the United States. The DEA formally banned the drug in 2013, but the action only covered a small number of chemicals, giving makers and sellers legal room to replace them with other chemicals. There are an estimated 200 different types of synthetic cannabinoids available in the US.