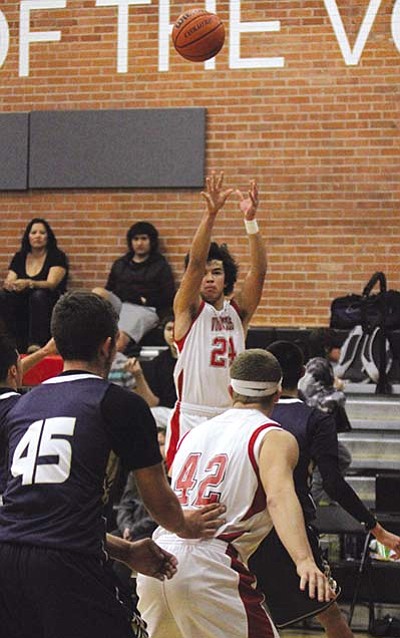 Originally Published: February 21, 2016 6 a.m.
KINGMAN - Seven points in a half of a state tournament basketball game just wasn't going to cut it.
After leading No. 6 Queen Creek American Leadership (18-3) at the end of the first half 22-20 in Saturday's second round of the AIA Boys Basketball Division IV State Championship tournament in Prescott Valley, No. 11 Lee Williams (13-10) suffocated under the weight of its own offense. American blew by the Volunteers in the second half by a margin of 32-7 to advance to the quarterfinals, 52-29.
"We didn't play well in the second half," said LWHS boys basketball coach Ray Smith. "We missed a lot of shots and then we got desperate and made mistakes."
Marco Antonio Narvarte led the Vols with 11 points. Giancarlo Narvarte scored eight, and Braxton Burgess, Chaise Shropshire, Nate Cottrell, Lawrence Campbell and Kael Juelfs each had two.
Lee Williams earned the right to face off with the Patriots by beating No. 22 Joy Christian (11-10) for the second time this season, 48-33 in the first round Friday.
It was a typical defensive first-half battle for the Volunteers. Lee Williams led 19-15 at the break, despite the Volunteers not doing themselves any favors by shooting 0-for-6 from the free-throw line.
Lee Williams made it an eight-point game at the end of the third quarter, as Cottrell scored seven points in the quarter. The Vols led 34-26 to start the fourth quarter and that's when Lee Williams turned it on.
The Vols' defense stepped up and held Joy to only seven points in the final eight minutes, and the shooting heated up. The Vols went 8-for-11 from the charity stripe to put the Eagles away, 48-33.
Cottrell finished with 10 points. Giancarlo Narvarte led the way with 12. Burgess scored eight, all in the fourth quarter including 6-for-6 shooting free throws. Shropshire contributed six, all in the second quarter, and Marco Antonio Narvarte ended with five. Campbell came up with four, Juelfs added two, and Parker Taylor had one.
Lee Williams ended the season 17-14 overall.