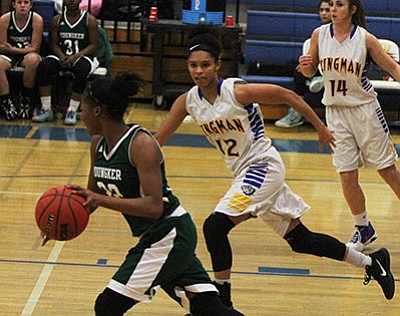 Originally Published: January 28, 2016 6:02 a.m.
KINGMAN - Inching closer to the No. 1 seed for the Division III, Section VI tournament that begins Feb. 9 in Buckeye, the Kingman High Lady Bulldogs cruised past Buckeye Youngker Tuesday at KHS, 64-44.
Senior point guard Makenna Taylor led Kingman (13-0, 4-0) with 19 points on 50 percent shooting. Taylor went 5-for-7 at the free-throw line and added three assists, three steals and three rebounds.
Senior Desirae Gonzalez scored 31 points and hauled down 20 rebounds. She also had five assists and five blocked shots.
Kim Carroll contributed nine points, Courtney Mossor added four and Keara Tauta had one.
The No. 5 state-ranked Lady Bulldogs used a 21-12 first quarter for separation from Youngker (9-5, 1-2).
Kingman then led 38-29 at half, and exploded in the third to grab a 50-31 lead going into the fourth.
The Lady Bulldogs' next two games are non-section contests, including hosting Glendale (9-8) at 5:30 p.m. Friday.