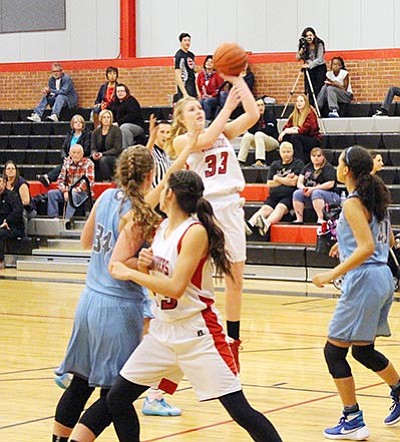 Originally Published: January 29, 2016 6 a.m.
KINGMAN - After showing that patience just might be the thing to get past No. 21 Estrella Foothills, the Lee Williams girls basketball team couldn't resist the temptation of speeding things up and the Wolves outran the Lady Vols Wednesday at LWHS, 55-32.
Lee Williams (7-7 Division III, 1-2 Section VI) took its time in the opening quarter against the Estrella (10-5, 2-2) full-court press defense. The Lady Vols led 8-2 while keeping the Wolves in a half-court game that was giving Lee Williams the early edge.
"The first quarter we did a great job. We were patient," said LWHS girls basketball coach Cain Atkinson. "One thing our girls don't realize is how effective being patient can be."
The next two quarters would provide excellent learning material as Estrella forced the game into a faster tempo. The Wolves opened the second quarter with a 14-0 run before Lee Williams could settle things back down. The Lady Vols answered with their own 7-0 run and trailed 16-15, but Estrella ended the quarter outscoring Lee Williams 6-1 for a 22-16 halftime lead.
Sadie Snay opened the third quarter with a bucket for Lee Williams to narrow the lead to four, but that was as close as the Lady Vols would get the rest of the night. Estrella then went on a 17-0 run before Snay ended it with a 3-pointer, and the Wolves cruised to the final buzzer.
Snay led Lee Williams with 14 points.
"Throughout the course of the game we stopped doing the stuff that was so effective," Atkinson said.
Lee Williams committed 24 turnovers and shot 34 percent from the free-throw line on 8-for-23 shooting.
Marli Lauck scored seven points for the Lady Vols. Madi Arave added four, Kaylee Bond and Jackie Millim each finished with three, and Chania Scott had one.
The loss dropped Lee Williams to fourth place in the section race and Estrella moved up to third. Kingman (4-0) holds a one-half game lead over Buckeye (3-0) for first place. The top four teams advance to the section tournament in two weeks.
Lee Williams plays winless Shadow Ridge (0-15, 0-3) today in Surprise. It's almost a must-win for the Lady Vols as they continue striving for a postseason spot with only three games left in the regular season.