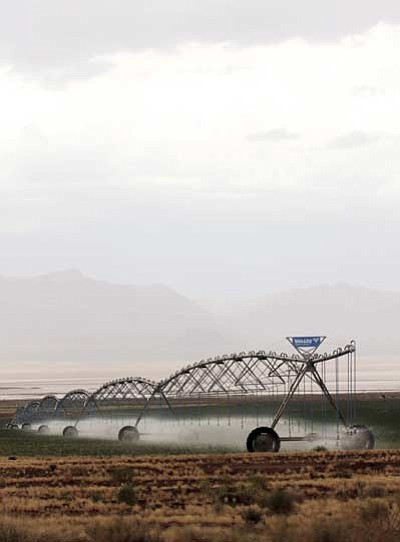 Originally Published: July 3, 2016 6:01 a.m.
KINGMAN - If residents weren't worried about the future of water in Mohave County before the inaugural meeting of Gov. Doug Ducey's Arizona Water Initiative was held Thursday in Kingman, they will be now.
Here are some alarming facts shared by the Arizona Department of Water Resources when they met with residents at the Mohave County Board of Supervisors auditorium, the most important being this: The Arizona Department of Water Resources has absolutely no regulatory authority over water resources in Mohave County.
Anyone who wants a well, lives where wells can be drilled, files a notice of intent to drill a well, registers the well and hires a licensed well digger can get a well.
There are no reporting requirements. They don't have to provide any information on how much water they use, its quality or its quantity. Many don't have to limit how many gallons per minute they use or provide any information whatsoever. There is no limit on how many wells can be drilled.
There are only two ways for Water Resources to gain regulatory control and that is through the creation of groundwater active management areas or irrigation non-expansion areas. There are currently three active management areas in the state.
There are no such areas in Mohave County, due in large part to long-held concerns they would impede the economy, particularly in the case of active management areas, which could prove overly burdensome for domestic well owners on single-family lots.
The Legislature might be asked to create a third avenue that would allow the state to get involved, but that's a process that could take years and many people think the time to act is now.
Boiling it down a little more:
Nearly half of the water that was taken out of the Hualapai Basin - from which most of Kingman gets its water - in 2015 went to large farm operations.
This came on the heels of a state water study published in December 2014 that forecast there would be no agricultural water demands in Mohave County for the next 20 years.
Even without the farms and their vast alfalfa fields, humans take more from the aquifer than is recharged each year. In fact, more than 23,000 acre feet was sucked out of the ground last year, more than four times the recharge rate of 5,400 gallons.
The water table at Mineral Park Mine was stable for decades, but it has dropped 23 feet in just the last six to seven years.
The Hualapai Basin has declined by 80 feet since the 1960s.
There are thousands of industrial, commercial and domestic wells in Mohave County.
Many of those wells are new and are being used to farm north of Kingman in the Red Lake, Stockton Hill and Long Mountain areas.
There are four basins in the Northwest Basins Planning Area, one of 22 areas Ducey and state water officials identified last October. It, along with La Paz and Cochise counties, was put at the top of the priority list due to a recent influx of large farm operations. This was done at the urging of the Mohave County Board of Supervisors.
Those basins are Hualapai Valley, Sacramento Valley, Detrital Valley and Meadview. Most of Kingman gets its water from the Hualapai Valley Basin and the remainder from the Sacramento Valley Basin, which feeds Golden Valley and the surrounding area. The Detrital Valley and Meadview basins are in the northern part of the county.
Clearly, the bulk of new farming is taking place in the Hualapai Basin, where 5,805 acres were cropland in 2015 and nearly 23,200 acre feet of water was drawn from the ground.
To put this in perspective, that's well over 7 billion gallons of water.
Things are slightly better in Golden Valley, where 387 acres were actively farmed in 2015 and 1,960 acre feet - more than 63 million gallons - was consumed.
More farmers have come to the county in 2016 and those that started planting in 2015 busted up a lot more acreage so far this year.
The goal of Ducey's initiative is easier said than done. Over the next year, meetings like what occurred Thursday in Kingman will take place elsewhere in Arizona. Water Resources will provide people in those areas of what their water reality is and people can provide input.