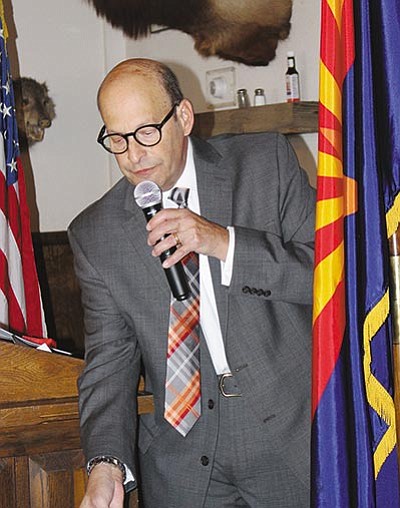 Originally Published: July 14, 2016 6:02 a.m.
KINGMAN - Dr. Laurence Schiff is headed to Cleveland this weekend, but security concerns have the delegate to the Republican National Convention going out of his way to get there.
"Security is going to be extremely tight," said Schiff, president of the Conservative Republican Club of Kingman. Schiff was elected a national delegate at last month's state GOP convention.
Schiff will be at the national convention, in which Donald Trump is the presumed nominee as the Republican Party's presidential candidate, Monday through Thursday's at Quicken Loans Arena.
Schiff said he's going so far as to fly to an alternate airport and ride into Cleveland.
"Look at what happens at Trump rallies," he told the Miner. "I have concerns about that." While Trump's rallies have indeed been marred by violence - both against and by his supporters - Schiff also said social unrest over the deadly ambush in Dallas and officer involved shootings of black men in Louisiana and Minnesota has him worried.
The ever-present threat of terrorism is another concern.
Schiff said he expects the arena to be "very safe and secure," but the convention itself could get sketchy if delegates don't follow the rules.
Schiff is a high-energy Trump supporter and he's not alone. Trump took the state and he won 65 percent of the Mohave County Republican vote in the preferential election.
"Every delegate who goes to Cleveland had to sign a pledge that on the first ballot they must vote for whomever won the primary," said Schiff, who added there is a movement to "unbound" the delegates.
"They'll tell them to vote their conscience," said Schiff. "They will probably vote for (Texas Sen. Ted) Cruz. It would be suicide to do that."
Even if he weren't a Trump supporter, Schiff said he would vote for him at the convention, "because that's what voters want," he said.
"I am the head of the Trump organization in Mohave County," Schiff said. "I will do everything in my power to ensure that Donald Trump is the nominee."