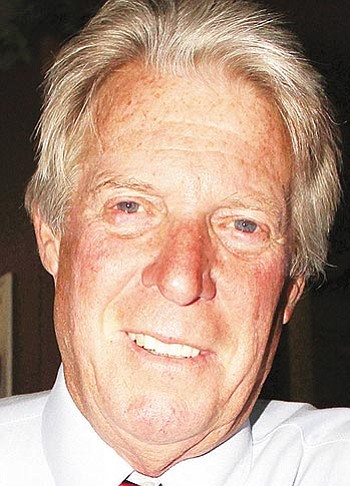 Originally Published: July 21, 2016 6 a.m.
Note: This is the final of four profiles of candidates for Kingman mayor. Mayor Richard Anderson was profiled Monday, Monica Gates was profiled Tuesday and Joe Longoria was profiled Wednesday.
KINGMAN - Mayoral candidate Harley Pettit worries that voters think a guy who has been a thorn in the side of Kingman's building industry - and particularly government's role in that industry for more than a decade - would be anti-growth.
"I'm for growth," said Pettit. "But I'm also for not letting developers get away with too much."
Pettit attended a couple of community colleges on the West Coast before he joined the Army, from which he was honorably discharged.
He spent three decades as a telephone lineman and in his spare time he drove a racecar - winning the inaugural California Nationals driving a dragster in 1988.
"That took 26 years," he said. "That speaks to my stick-to-itiveness."
Armed with several pages of prepared notes, Pettit said he's running to "change direction from the current mayor."
Pettit, a regular meeting attendee and frequent public commenter, has been at loggerheads with Mayor Richard Anderson throughout the current mayor's first two-year term.
"We don't have a revenue problem," he said. "We have a spending problem."
He said the Council outsources too many projects when there is staff available to do the same work for far less money.
"I'll represent the people and not special interests," said Pettit.
Pettit opposes any effort to impose a property tax in Kingman, an idea the Council briefly entertained last year before a former employee was caught allegedly embezzling more than $1 million and the Council took a public image hit.
In any event, Pettit said he would work to improve the city's infrastructure not through property taxes - which voters would have to approve - but through bonds, which voters also would have to approve. The benefit is, the bonds would be specific to certain projects. "The bond sunsets and the project gets completed," said Pettit.
Property taxes, on the other hand, "increase yearly. For a politician there is never enough money. My father was taxed out of his home in California. That was before Prop 13 was voted in."
Pettit parts ways with every other candidate for Council when it comes to Kingman Crossing, the ambitious plan to bring a fourth traffic interchange to Kingman and an expansive retail shopping and restaurant development in eastern Kingman adjacent to Interstate 40.
"It's clear to me this is a smoke and mirror trick on the public," said Pettit. "It's really a land grab."
Pettit said the city property (168 acre) south of the interstate is landlocked. There is no access, he said, and studies and surveys to figure out the engineering have cost the city, said Pettit, $300,000, "When it wasn't supposed to cost the city anything."
He prefers an interstate traffic interchange be built at Rancho Santa Fe, also called Rattlesnake Wash, "where the infrastructure already exists."
Pettit noted voters shot down Kingman Crossing when the plan was first voted on a decade ago, but more people seem to support it today.
Pettit is also on the other side of the fence as his opponents when it comes to the Kingman Airport and Industrial Park, which has come under heavy criticism due to a lack of meaningful activity.
Pettit said there are two issues, one is the airport and the other is the industrial park, where 2,000 area residents are employed, but no big employers have moved in for the past seven years.
Pettit has a list of small businesses that have opened.
"Right now, the status quo is working out just fine," said Pettit after noting the city should not become the manager of the airport, something that hasn't been discussed in Council meetings.
He did say American Woodmark, which employees nearly half of all the park's employees, recently opened a third shift.
"They've brought in 28 companies since 2011," said Pettit. "There is growth."
Pettit said he has been an active member of the community for 12 of 14 years he has lived in Kingman, including an unsuccessful run for City Council eight years ago.
"I am pro-growth, but at a normal level," he said. "Kingman's growth is about 3 percent a year." Pettit was a founder of Residents Against Irresponsible Development (RAID), which successfully had two referendums on the ballot. "We were accused of being anti-growth, but nothing could be further from the truth. We objected to an adult bookstore, an animal shelter etc., being placed in a residential neighborhood."
Pettit said he would treat the city as a business if elected, focusing on "the bills you have to pay and then there are luxuries you don't spend money on you don't have. Water concerns and infrastructure are priorities for me."