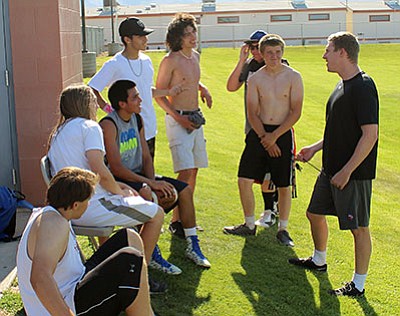 Originally Published: June 5, 2016 6 a.m.
I swore it wasn't going to happen again. But, dang it, he got me. He's got me hoping.
One of the early highlights of my summer was sitting down with new Kingman High School football coach Cam Wierson. I felt that titanic ship called "Bulldog Football" moving, which put a little dance in my step as the days of "we'll see" began to shrink in the rearview mirror.
The first detail I gleaned from Wierson is that he is a realist. He knows he's inherited a team that was 1-20 over the past two seasons and everything that comes with it. He saw right away he had a major rebuilding project on his hands, but he's not going to use that as an excuse. He's already working hard and getting his players to work hard by being at the school five days a week, three hours a day over the summer.
The Bulldogs haven't had a winning season since 1999. The best years since were 2012 and 2013 when Kingman went 4-6 in both seasons. Wierson isn't here to get the Bulldogs to 5-5.
Wierson is a champion. He said it best when he told me once you win a championship, you never go back. He was on the 2009 Division II national championship team at Northwest Missouri State, so he's experienced what it takes for a team to be elite.
The KHS football program needs a lot of construction, and he's prepared to put in the time for the project to reach its conclusion. He's not promising a state championship this year. He is promising a better product on the field, but he's not sure if the improved Bulldogs can convert the work into wins this year.
Wierson isn't looking at one season. He's looking at the big picture, and his standard is for KHS to compete for state championships down the road after the rebuilding is successful and stability sets in. There's already subtle movement in that direction, but you have to be close to the ground to feel it. It's there, but the new coach needs time and the program needs that stability.
And Kingman Unified School District No. 20 has to make certain Wierson gets it. And the district has to understand that if it is going to keep young college coaches like Wierson and his staff - and the staff at Lee Williams High School - it must be motivated to do so. KUSD must find ways to keep these type of coaches in Kingman for the long term.
I am convinced the new, young coaches in town are excited to be here. I don't even have to think about it - I know they are. KUSD and the community need to think outside the box to keep them excited. Even when new offers to go elsewhere land in their mailboxes.
Wierson is here to make Bulldog football viable again. That's the really good news.
He gives those rooting for KHS football hope. And Bulldog fans need not be ashamed for it.