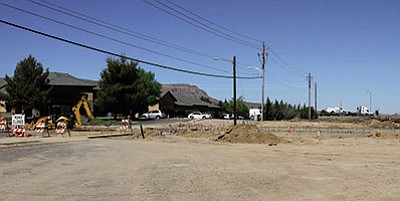 Originally Published: March 20, 2016 6 a.m.
KINGMAN - More than half of the nearly $273 million in capital improvement projects the city has identified for the next five years is dedicated to street projects.
While those projects, only a handful that are funded, address everything from paving the multiple miles of dirt roads in the city to the proposed Kingman Crossing and Rancho Santa Fe traffic interchanges on Interstate 40, Mayor Richard Anderson and members of the City Council seemed most interested in solving access problems caused by the interstate and railroad.
At a combined $57 million, the two most expensive involve the proposed traffic interchanges at Kingman Crossing (roughly $19 million) and Rancho Santa Fe near Rattlesnake Wash (about $37 million). The least expensive is $218,400 needed for pedestrian improvements on Andy Devine Avenue near downtown.
In between are a number of railroad and interstate crossing projects Mayor Richard Anderson and members of the Council were interested in pursuing sooner rather than later.
They include, in no particular order:
• Airfield Avenue railroad crossing: This more than $10.3 million project would provide a third railroad crossing in the area of the Airfield Avenue alignment and is designed to replace the closed Louise Avenue crossing. When constructed, this crossing would provide an alternative to the only other crossings at Hualapai Mountain Road and Airway Avenue.
The project, if ultimately funded, would begin in 2018 with a $400,000 feasibility study. Mayor Richard Anderson suggested moving it up to next year.
• The Canyon Road railroad crossing: This $3.6 million project would connect Canyon Road from Mission Boulevard to Topeka Street and provide an alternate access to downtown from Hualapai Mountain Road. The project would ease growing traffic concerns at Hualapai Mountain and Stockton Hill roads and has already been approved by the Arizona Corporation Commission. The project, if approved, would begin in 2019.
• A crossing at Interstate 40 and Western Avenue: This $9.3 million project would ultimately install a grade separated crossing of the interstate and is designed to ease traffic congestion on both Stockton Hill Road and Harrison Street.
The Council had a choice between Western or Fairgrounds avenue, but informally agreed Western would be the better choice. The project was slated to begin in 2019, but Councilwoman Jen Miles suggested it be moved up a year or two.
• Kingman Crossing traffic interchange: This $19.6 million project would give Kingman a fourth access point to the interstate, provide another crossing point in eastern Kingman, and provide access to the planned commercial development of Kingman Crossing.
The project could begin in 2017 with design and engineering work at a cost of $1.3 million and professional services at $300,000. The final design concept and change of access reports have been approved. An as yet unidentified developer or consortium of developers have been targeted as the funding source.
• Prospector Street and I-40: This project will begin next year with design and engineering at a cost of $750,000. It is designed to either go under or over the interstate, but not provide access to the freeway. The idea is to improve access to the northeast quadrant of the city. When the report is done later this year, the results will be presented to the Council for further review and a possible recommendation.
• Rancho Santa Fe Parkway traffic interchange: There are two proposed phases to this project. The first, at $37.5 million, would provide a fifth access point to I-40. The interchange would include a connecting roadway to Industrial Avenue and improve north-south traffic flows, access to Airway Avenue and Kingman Airport and Industrial Park.
It is slated to begin with the purchase of land and rights of way at a cost of $583,500 beginning in 2019.
Phase two would cost nearly $12 million and involves extend the connecting road from Louise Avenue to Hualapai Mountain Road.
• Topeka Street railroad crossing: This $5.7 million project would eliminate public safety response issues as access is blocked when trains pass through the downtown area. A grade separated crossing, rather than the existing at-grade crossing would allow uninterrupted access.