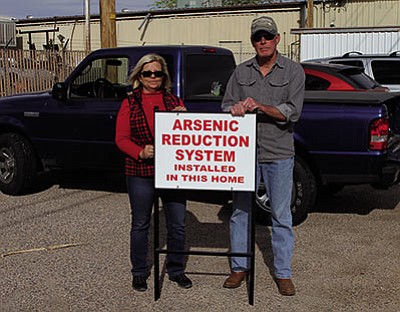 Originally Published: March 22, 2016 6 a.m.
KINGMAN - Dawn and Jerry Hill moved into their gracious home on the fourth hole of Valle Vista's golf course in June of 2013, and soon after discovered the ongoing issue with the water supplied to the small community - namely, that it exceeds the environmental standard for arsenic, which is 10 parts per billion, or ppb. Recent tests have put the level at 11 ppb and 13 ppb.
So they, along with others, switched to using bottled water as much as possible, although one can't bathe or fill a hot tub with it.
"It wasn't a huge concern to us," said Dawn, "until Jerry was diagnosed in February with polycythemia vera."
"Too many red blood cells," added Jerry.
"I was thinking," continued Dawn, "'What could be causing this? Does this arsenic situation have anything to do with it?' "
"We flat-out asked the doctor that," said Jerry. "He said, 'I can't give you a definitive answer. But I'm not going to rule it out.'"
Since first notified of the arsenic level overage, Truxton Canyon Water Co., which supplies water to about 950 customers in the Valle Vista/Kingman area, has been providing filtered water from its offices and pursuing a filtration system that would bring its water into compliance.
When asked last week when the system would be ready, a representative of the company directed all queries to the Arizona Corporation Commission website, where documents are filed under case No. W-02168A-15-0369. A Feb. 11 document shows that Truxton has been approved to finance the treatment system and references an Arizona Department of Environmental Quality completion deadline of June 30.
That wasn't fast enough for the Hills. So last week, they had a home arsenic system installed that's supposed to remove about 99 percent of the arsenic from their water.
"We decided that we needed to get this taken care of," Dawn said.
"It the only thing we can do," added Jerry. "We can't rely on anyone else. We have to take care of this house."
Arsenic
Arsenic, a semi-metal element, occurs naturally as part of the Earth's crust, and it's common for groundwater systems in the western United States to have higher arsenic concentrations than in other parts of the country.
The EPA's current standard of 10 ppb was established in 2001, bringing the allowable level down from 50 ppb. The older standard was set in 1942 before arsenic was linked to cancer, according to a report from the National Resources Defense Council.
The Centers for Disease Control says that long-term exposure to arsenic has been linked to cancers of the bladder, lungs, skin, kidneys, nasal passages, liver and prostate.
Money concerns
The Feb. 11 order authorizes Truxton Canyon Water Co. to finance up to $350,950 to build an arsenic treatment plant and a building to house it.
It also says the company can implement a surcharge on customers over the 20 years it will take to pay off the loan. That surcharge has been reported as $2.02 for residential customers. Once the financing is finalized, the company is required to file again with the Arizona Corporation Commission to show what the surcharges will be.
Many customers were riled recently when their bills contained a much higher surcharge - $18.02 - and a flood of complaints rolled in. The company responded with a March 2 mailing saying they'd made a mistake in billing, and credited all customer accounts.
But residential customers won't be the only ones paying for the system. The Valle Vista Property Owners Association uses a lot of water for the development's pool and golf course, and while they objected to being included in some areas - treated water isn't necessary to irrigate the golf course, they said - the association is part of the surcharge structure.
The source of that $18.02 figure, which was listed for Valle Vista customers, stems from Order No. 74835, filed on Nov. 14, 2014. It divides up the cost of the treatment plant between users. Commission staff did their calculations and came up with the following rates: ¾ inch residential meter, $18.02; 2-inch meters, $96.09; 4-inch meter, $416.99; and 6-inch meter, $833.97.
A member of the Valle Vista Property Owners Association board did not return a phone call seeking comment.
Meanwhile, the Hills said they felt much more relaxed last week as they checked in on their new filtration system as it did its work in the utility room, next to the hot water heater and the washer and dryer.
"It's good if Truxton does get this up and running," said Dawn. "It would just make our water even better, having this system put in."