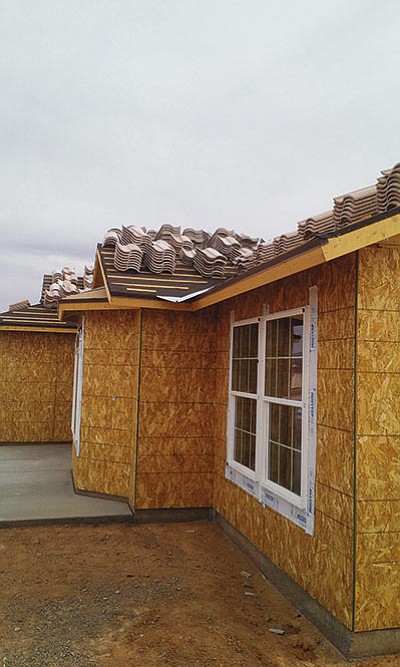 Originally Published: March 29, 2016 6 a.m.
KINGMAN - Anyone who has ever had a bad experience with a remodeling contractor will agree they all made one critical mistake: They didn't choose wisely.
Whether it's something as simple as painting or landscaping or something more complex, such as a complete renovation, due diligence should always be the first step taken.
According to the Better Business Bureau, more than 400 complaints were filed against the construction industry in 2015 just in northern and western Arizona. They included 68 against construction and remodeling services, 152 against general contractors, 111 against roofing contractors, and 75 against painters.
Many regarded undue delays and warranty issues, but many more regarded contractors who didn't even bother to show up or complete the job, and - this is a big one - wanted more money to finish the job than the original agreement called for.
Here's a checklist the bureau provided:
• Trustworthiness: The bureau has a list of accredited businesses. Visit www.searchbbb.org to find local companies that earned a spot on the list.
• Track record: Review the bureau's business review for rating, complaint history, customer reviews and more at www.bbb.org.
• Licensing: Contact the Arizona Registrar of Contractors at www.azroc.gov or call 877-692-9762 to verify a contractor's license. Contractors are required to show their six-digit license number on business cards.
• Pricing: Compare at least three written estimates including warranty, specifications, and timeline, labor and material costs.
• Insurance: Verify liability to protect against damages by calling the Arizona Department of Insurance at 602-364-2499.
• References: Obtain and contact three references for review of past work.
• Contract: Get all promises in writing and review the fine print. Do not sign until you fully understand the contract.
• Payment schedule: Never pay for an entire project upfront, especially in cash. Pay a deposit of 25-30 percent and don't make the final payment until the job is completed to your satisfaction. It's best to pay by check or credit card.
The bureau recommends clients try to resolve any issues with the contractor first. Keep good records and document telephone conversations and emails.
If those efforts are unsuccessful, consider filing a complaint with the bureau at www.bbb.org/complaint. File a complaint with the Arizona Registrar of Contractors at www.azroc.gov or by calling 877-692-9762. File a complaint with the Arizona Attorney General at azag.gov/complaints or by calling 602-542-5025.
File a complaint with the Federal Trade Commission at www.ftc.gov or by calling 877-382-4357.
Finally, to avoid fraud or scams, avoid contractors who sell door-to-door or have "extra material" from their last job; ask for payments in cash or want the full payment upfront; pressure you to sign a contract; ask you to pull the building permits; or do not have a license through the Arizona Registrar of Contractors.