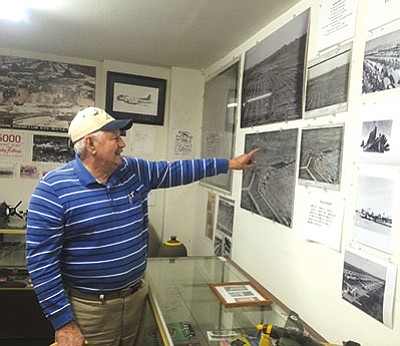 Originally Published: May 24, 2016 6:02 a.m.
KINGMAN - Your last chance to visit the Kingman Army Air Field Museum is from 9 a.m. to noon or 1 p.m. - depending on the heat - on Wednesday.
The mystery hours (close at noon? close at 1 p.m.?) tell part of the story. The museum is open in the summer until it's too hot, and it's open in the winter until it's too cold.
"When it rains outside, it rains inside," said Bob Loose, one of the few remaining people actively involved in keeping the doors open, even if there's only one more day the public can visit.
"In the winter it's 30 degrees in here, and in the summer it's 115," Loose said. "Nobody likes to volunteer and put up with that kind of stuff."
The museum, constructed in 1942 shortly after the U.S. joined World War II, is an old, drafty hangar with no heat and no air conditioning. Plus, the volunteers were expected to be more than curators who could offer information to visitors. They were also expected to sweep the floor - and there's a lot of it - and to dust exhibits and polish the aircraft on display.
Loose, who is 87, will be sorry to see the doors close. The veteran was president of the museum board for over 5 years, and some of it has been a struggle. Now, Loose notes, his helpers mostly consist of local historian Rob Chilcoat and John Holuvik, 88.
Both Loose and Holuvik, another war veteran, are battling health issues common for people their age.
If you haven't visited the museum and go Wednesday, you'll find several smaller-scale airplanes that are replicas of those that flew in both world wars. With some work, two of them are still capable of flight. Then there are the weapons on display, plus radios, helmets, maps, first aid kits, other equipment, and plenty of photos.
One intriguing bit of metal, shaped somewhat like a giant military can opener, served as a "jaws of life" to help pry men out of crashes.
All of that will be gone before mid-June. An auctioneer has been hired, and all of the inventory that isn't privately owned will go to the highest bidder. Loose said the auctioneer pegged the value of the inventory at $11,000, which is not as high as he expected. While many of the items on display are uncommon, they are not rare.
The auctioneer arrives Thursday, and his work getting items tagged and organized for the sale will force the museum to close its doors to visitors.
"It just saddens me to know what's coming," Loose said.