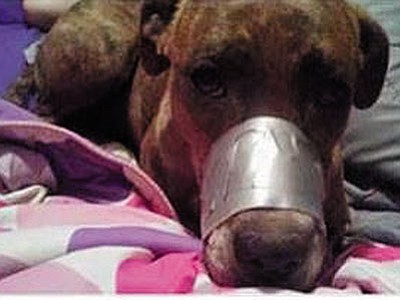 Originally Published: May 26, 2016 6:02 a.m.
KINGMAN - A Kingman woman who posted a photograph of her dog with its muzzle duct-taped shut went to jail this week, but not for animal abuse.
The Kingman Police Department received a number of complaints regarding the post on Facebook, which depicted the animal with the owner explaining she made the "homemade muzzle" after the dog chewed up furniture.
Police were able to locate both the dog and its owner at a home in the 700 block of Sixth Street.
Police and Mohave County Animal Control responded and contacted the 22-year-old owner.
Investigators determined the dog was in good condition and was never harmed or in any danger, according to Deputy Police Chief Rusty Cooper, and the elements necessary to justify a charge of animal cruelty were not met.
However, a record check revealed the woman had a misdemeanor failure to pay fines warrant issued by the Mohave County Sheriff's Office.
She was taken into custody without incident and counseled on the proper use of an actual muzzle.