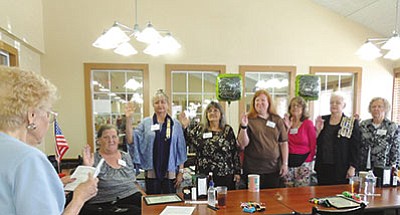 Originally Published: May 26, 2016 6 a.m.
American Legion Family of Post 14: Thank you to Nora Armitage, Dana Brock, Ernie and Rebecca Faris, Florence Hawthorne, Rita Kuneff, Mary McGuire, Bonnie Rutt, Cheree Shamblin and Grace VanHorn for distributing poppies on Armed Forces Day and to all the members and citizens who donated to the program. The money will be used to help our veterans in the VA medical center in Prescott and the state veterans' home in Phoenix. Tonight will be a planning meeting to set our 2016-2017 activities; if you have ideas, please join us at 5:30 p.m. This Friday's dinner at 5 p.m. will feature "Not-your-mama's tuna casserole," broccoli salad and strawberry shortcake for $5 a plate. Remember our Memorial Day activities beginning at 6 a.m. to set out flags on veterans' graves; 9 a.m. World War II rededication of the memorial plaque at the county administration building; 11 a.m. services and Post everlasting at the cemetery; 1 p.m. barbecue at the post - $1 for hot dogs and $2 for hamburgers; and retrieving the gravesite flags at 5 p.m.
Belles of St. Mary's: Did you miss us? My pencil and I took a brief holiday, but now we are back! Big doings this Friday at the 6 p.m. Mass: 19 new, fully-participating Catholics will be formally presented and welcomed. Baptisms, professions of faith, confirmation and First Communion will be witnessed with tear-filled eyes by attending parishioners. This is what church is all about - stepping up in front of the world and proclaiming your faith and allegiance to God Almighty. I, for one, am so proud of you! Church events waiting for your support and participation: Our Daily Bread (Tuesday), RCIA (every Thursday), Cathletics (June 6-10) and softball (Tuesday). See bulletin for details. This Sunday is the Feast of Corpus Christi; we bless and honor Christ the King and Monday ends the month with a day of remembrance for the blessing of our veterans.
Branch 260 Fleet Reserve Association: Mohave County Branch 260 meets the second Saturday of every odd month at 1300 hours at VFW Post 2555, Golden Valley. Every even month we meet in Bullhead City at the same time at VFW Post 10005. FRA is a community of the sea services; U.S. Navy, Marines and Coast Guard. Your enlisted service in any of these branches - past or present, for a short time or for the long haul - is your passport to membership in an association that works hard for you and your family in your local community and in Washington, D.C. All Navy/Marine Corps/Coast Guard veterans are welcome to meetings. For more information, call Mike at 928-565-5811.
Brunch Bunch Motorcycle Riders: The Brunch Bunch has no dues, no officers, no paperwork, no egos - we just ride Sundays and Wednesdays and have fun with like-minded friends. Meet at I-40 Exit 48 Chevron, 777 W. Beale St. at 8:30 a.m. Kickstands up at 9 a.m. For questions or information, contact Harley at 928-530-2555 or visit us online at harley3787.wix.com/brunch-bunch-riders.
Cactus Cuties Lady Bikers Chapter: Interested in joining other lady motorcyclists with common interests of motorcycles and riding? There is a Women in the Wind-Cactus Cuties Chapter in the Kingman, Golden Valley, Bullhead City and surrounding areas! We meet the first Sunday of each month at 10 a.m. at Peggy Sue's Diner, 4305 Highway 68 in Golden Valley. Check out our website at www.womeninthewind.org or contact us at witwcactuscuties@yahoo.com or 702-624-1160. We are also on Facebook: Women in the Wind - Cactus Cuties Chapter.
The Cerbat Garden Club welcomes guests at its meetings on the second Wednesday of the month from September through June. The garden club meets from 10 a.m. until noon in the fellowship hall of St. John's United Methodist Church at 1731 Kino Ave. in Kingman. Our mission is to promote gardening, floral design, civic beautification, environmental responsibility and the exchange of information and ideas. Our last meeting of the season will be a potluck on June 8. Master Gardener Linda Reddick will be speaking on planting a fall garden. The June 18 Gardener's Day Out will be a trip to Prescott to attend the Alta Vista Garden Club's Garden Tour. For more information call Sandy at 928-692-2778. Visit our Facebook page and website at www.cerbatgardenclub.org.
Dig It Kingman Community Gardens: After reading an article about vandalism at the Dig It Kingman Community Gardens last fall, Garrett Hoffman chose to use his Eagle Scout project to benefit this local organization. He built a beautiful shade structure over the picnic tables at the garden. True Value Hardware, Canyon State Enterprises and Desert Construction generously donated the needed materials and the city of Kingman donated the building permit. Garrett could not have completed this project without the help of his family and friends, his leaders and follow members of BSA Troop 19, Earl Sharp, Clyde Pease, Jeff McNiven and the members of the garden.
Fraternal Order of Eagles: 4536 Patsy Dr.; 757-8635. Installation of the new Aerie and Auxiliary Officers is at 6 p.m. Saturday. Bingo on Wednesday at 6:30 p.m. and Sunday at 1:30 p.m. Kitchen open. Friday night spaghetti dinner and dance - public welcome, 5 p.m. to close. Friday night band is Retrospect. Time to kick up your heels. The Junior Order of Eagles is open for children ages 7 to 18 and they meet on the first and third Saturday from 10 a.m. to noon. Call Lisa Pinto at 928-303-8526 for more information. Jam Session from 2-4 p.m. June 4 and 18. The public is welcome. For more information, contact Dick Penwarden at 928-247-7168 or 928-210-6141. Bring your musical talents and have some great fun.
Friday Duplicate Bridge: The results of the game on May 20 were: tied for first and second place, Doug Heard and John Goryl and Wolfgang Vorbau and Jeanny Clegg; and third, Trey Gordon and Bert Leenhouts. There is a game each Friday at 11:45 a.m. at the Kathryn Heidenreich Adult Center.
The Friends of the Library - Golden Valley will have a book sale from 10 a.m.-1 p.m. June 4 in the back of the GV library at 3417 N. Verde Road. Our price is $2 a bag (our bag). We have hundreds of new donations of all genres. There is no limit on the number of bags purchased. If you want to be a Friend it's $5 a year for individuals and families and $10 for businesses. A lifetime membership is $100. Meetings are held the first Saturday of the month at 1 p.m. except for the summer. Applications are available at the GV library. The library is open Saturday from 10 a.m. to 1 p.m., Tuesday from 9 a.m. to 3 p.m. and Thursday from noon to 6 p.m. The phone number is 928-565-2989.
Kingman Pinochle Club: The results for the May 21 games were: first place, John Goryl; second place, Donna Orth; and third place, Tom Suminski. For more information about the club or to come play with us, please call Connie at 928-681-4934.
Kingman Railroad Museum: Wishing everyone a wonderful Memorial Day weekend as we pause to remember all who served and made the ultimate sacrifice for our great country. If your plans include some local recreation, the railroad museum will be open Saturday and Sunday. You are invited to come see our new railroad photo gallery, latest artifact and memorabilia collections, and our expanded, hands-on Thomas the Train for the children. And our three model railroads are always in operation. The museum is located at 403 E. Andy Devine Ave. in the restored Santa Fe Depot. For more information, call us at 928-718-1440, visit our website, www.kingmanrailroadmuseum.org, or see us on Facebook.
Korean War Veterans of Mohave County: For all Korean War and Korean service veterans. Join the association at 1 p.m. June 4 for the monthly meeting. Meetings are the first Saturday of each month at 1 p.m. at VFW Post 10386, 3036 John L Ave. in Kingman. We are always looking for new applicants. Just bring your DD214 and we will do the rest. We look forward to seeing you. For further information, please call 928-757-0492.
Mohave Amateur Radio Club will offer a general license class soon. There is no charge for the class, but you do need to buy a $22 book and there is a $15 testing fee when the class is completed. The eight-week class will be once a week on Monday evenings starting at 7 p.m. June 6. For more information, contact Rick at 928-530-1671.
Mohave Arms Collectors Association: MACA's meeting is at 6:30 p.m. today at the Mohave Sportsmans Club. With the successful completion of our fishing trip contest at the April meeting, the MACA celebrated by having a fun day at the Seven Mile Hill range. A shoot with vintage World War II American military firearms was held, followed by a potluck/barbecue lunch. A multitude of WWII guns were used, including M1s, M1 carbines, '03 Springfields and a WWI 1917 Enfield. The shoot was won by Walt Swinarski using an M1 Garand rifle. The theme for the May meeting will be "the great American Cold War warriors," the 7.62mm and the 5.56mm cartridges and their related firearms. Anyone interested in firearms, come check us out.
Thursday Party Bridge: The winners of the May 19 games were: first, Barbara Gracin; second, Gladys Smith; and third, Barry Pope.
Wednesday Party Bridge: The winners for the May 18 games were: first, Vicky Greening; second, Paul Greening; and third, Nelson Gaska.
Women of the Moose: Members enjoyed cake before the last meeting to celebrate May birthdays. Kathryne Deshields (97!) and Mary Jean Hejduk were presented with gifts. Guest speakers from Kingman Cancer Care will be at our next meeting at 6 p.m. Wednesday. Community Service Chairman Charolotte Lokken will serve refreshments after the meeting. We encourage all members to check their dues card expiration date. Please call Membership Chairman Ginger Hickle if you need information or help paying your days at 928-279-6168.