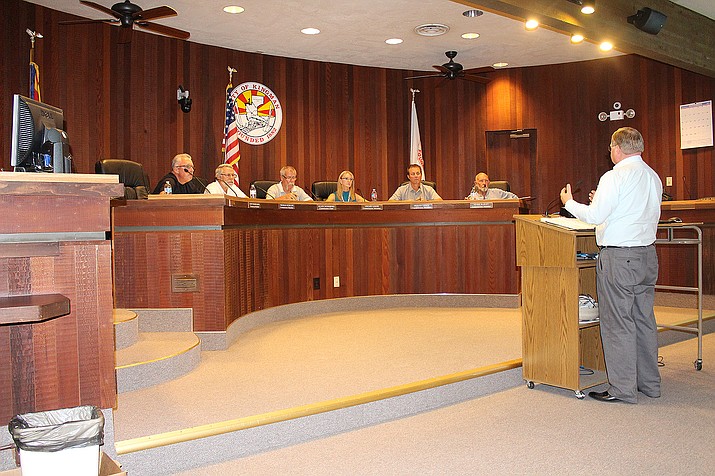 Photo by Bob Leal.
Originally Published: November 11, 2016 6:03 a.m.
KINGMAN – An overflow crowd of more than 50 attended the Planning and Zoning Commission meeting at Council Chambers on Tuesday evening to learn about and express their desires for a proposed Downtown Development District.
Eleven citizens addressed the council and brought up plenty of questions, including the questioning of the wording in a draft handout that described the proposed district, its borders and lot sizes, among other things. One of the popular concerns was impacts to residential properties.
The idea, similar to an entertainment district or a planned maintenance development district, is to unite, develop and strengthen the downtown area while identifying, preserving and enhancing Kingman's history.
"The reality is we have to start somewhere," said Matt Wanner of the Downtown Merchants Association, which has around 50 members. "We're trying to create an atmosphere that allows the city to give us the tools to move forward.
"We're not looking for taxes. We're not looking at costs to the businesses. This is all free," Wanner told the council. He said Kingman could follow proven models made successful by Flagstaff, Williams, Cottonwood and Camp Verde.
Wanner also said relaxing some of the restrictions regarding the Historic Overlay District could be very beneficial and spur growth.
Councilman Stuart Yocum said city staff, the council, downtown business owners and property owners all worked very hard on the draft.
"It's to help the downtown area develop faster and better and more efficiently," said Yocum, because it "removes layers of bureaucracy."
"It will help downtown property values. It's for the benefit of the city. It really is," Yocum said.
He pointed out that it will need to be adjusted and revised to address all stakeholders.
Michael Carter, who owns an historic home in the 700 block of Beale Street and currently uses it as a residence, is concerned the proposed district will take place without considerations for those who still reside in the downtown area.
"Downtown has lost many historic structures and all you have to do is look at the vacant lots where they once stood," Carter wrote in an email.
He continued: "We (including my neighbors) feel that our homes are threatened by current zoning ordinances, and the future of historical homes within the proposed Downtown Development District is uncertain.
"This could be addressed by amending 30.410 (of the zoning ordinance) and including favorable language to protect existing residential homes with this new district."
"It's great to see this turnout," said Commissioner Allen Mossberg. Added Commissioner Gary Fredrickson, "Hopefully this is the start in the right direction."
Gary Jeppson, development services director for the Planning and Zoning Department, recommended a workshop for all stakeholders after the first of year. The Commission agreed.
More like this story