Shannon's experiences in Korea terrifying
Honoring All Who Served
Originally Published: November 11, 2016 11:16 a.m.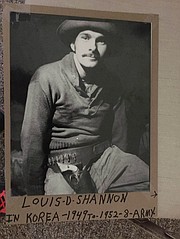 KINGMAN – It's amazing Louis Shannon is still with us after his military service in Korea during the early 1950s. He was shot once in his left arm and bayoneted in the right arm.
Despite the injuries and tough breaks thrown his way, the 87-year-old Kingman resident remains a steadfast patriot all the way and said he has a warm spot in his heart for America.
"I kissed the ground," said Shannon, when he got back from Korea. "I love America. I've got American flags hanging in my house. If you've ever seen my house, you'll see all the American flags I've got hanging in there on the walls.
"Because I love America, I'll fight for America any day. I'll fight for our flag," he said.
Shannon served in a unit that is vibrantly familiar to many readers: He was a medic in the 8th Army in the 4077 Mobile Mash unit.
Survived Chinese bayonet
Shannon, who was born and raised in Bell, Calif., until his family moved to a ranch in Redlands, Calif., when he was 14, found himself in a harrowing situation.
"There was like 100,000 Chinese that came right over the top of us, just flooded right over the top of us," recalls Shannon. "The bodies were just falling over me."
"They were killing anybody that was wounded. They wanted to make sure that everyone was dead. And I was just lucky. I was buried underneath the others (American soldiers).
"I just stayed there while they were bayoneting the guys. Then one bayonet came through another guy and caught me in the arm," said Shannon.
Shot while carrying injured American
"I got shot in the left arm, some kind of small caliber. I was carrying this guy on my back. I was carrying him to the helicopter. This guy came in right at me. I had a six-gun.
"I pulled it out and shot him and he went down. I turned around with the other guy on my shoulders and ran with him," said Shannon. "I took him to the helicopter. And then they saw me with blood all over me so they picked me up and took me with them. We went up to the 4077 Mash Unit."
He was in a hospital recovering and then was assigned to a motor pool. A colonel walked in to where he and a group of soldiers were staying and asked if any of them could drive a truck.
"I said, I can drive any truck that he had," said Shannon. Then the colonel told him to walk down to where the trucks were and pick one. "You are a truck driver from now on," the colonel told Shannon.
"I was the happiest guy in the world," said Shannon. But his terrifying experiences were far from over.
One night he went on a mission to Seoul to pick up medical supplies. He said there was "action" during the night, and found shelter in the stairwell of a home.
'Reds' attack town
"The 'Reds' came in and attacked the town," said Shannon. He said the "Reds" were raping the women and he was able to help a 12-year-old girl by hiding her with him in the stairwell. He told the girl to be quiet and to not say a word.
Shannon had to be resourceful, and he was thankful he had a weapon that he customized with a 62-round clip. And of course, he had the .22 caliber handgun his father had given him that he bored out so it would shoot .30 caliber bullets.
His dad told him, "Louis, if you're going into that hellhole, I want you to take the .22 pistol with you," Shannon said. He carried it from the day he left Seattle to the day he arrived back on U.S. soil. He had to be crafty, because there were areas where no guns were allowed. Between hiding it on his body and his bags, it stayed with him.
"No one ever knew I had that gun," said Shannon. He also carried two bayonets that he had sharpened to a razor's edge under his arms in holsters.
Shannon said he has great memories of the Korean people.
"I love those people. The Korean people are great people," said Shannon. "They really are. You'd be surprised at how good they were to us."
Winter was brutal
"I was so cold. I was like a zombie, because you never really sleep," said Shannon.
"All winter we're driving on top of frozen mines," he said. When it became spring, a fellow trucker had his wheels blown off after the ground softened up.
One time on his way back to Seoul, he got lost near the 38th parallel. Then somebody starting shooting at him and his tire blew. He luckily escaped the attack by pulling off an evasive maneuver.
He finally found the road he was looking for and headed back to a safer area.
Shannon hauled water, oil, gas and body bags. "That was the sickening part, hauling body bags," he said.
When Shannon arrived back at Fort Ord in California, he said the Army wanted him to re-enlist, but he told the Army he had to help out on the family farm.
He worked at Norton Air Force Base in San Bernardino, Calif., and also worked for Sears & Roebuck managing a warehouse.
Along the way he was married a few times and had three children. He also adopted two other children and settled in Beaumont, Calif.
Shannon said he forgot about the war and went on with his life.
He said he didn't buy one of the Korean Veteran hats he wears until he was 71 or 72 years of age.
Although his body may be slowing down, Shannon's mind is sharp.
And he says he is very thankful to be here in Kingman.
More like this story
SUBMIT FEEDBACK
Click Below to:
This Week's Circulars
To view money-saving ads
For as little as $3.49*