4 new coaches for winter sports
Only wrestling's Dan Ondrejka returns to same team

Originally Published: November 13, 2016 6:01 a.m.
KINGMAN – The high school coaching carousel went around quickly for the winter sports teams at Lee Williams. Four teams – boys and girls basketball, and boys and girls soccer – have new coaches this season. Dan Ondrejka, the Volunteers' wrestling coach, has returned for what will be his first full season after taking over last year in December.
Cain Atkinson coached the Lady Vols basketball team the previous two seasons and is now the coach of the boys basketball team. He said the boys game is more his speed, which makes him more comfortable.
"It's something I've been around since I started playing in the second grade," Atkinson said. "I was an all-state high school player my junior and senior years in Wyoming, and I played at Black Hills State (South Dakota)."
The Lady Vols went 26-24 during Atkinson's two years. His transfer left an opening with the Lady Vols, and Hualapai Elementary Principal Jerry Arave has agreed to take that position.
Arave moved his family to Kingman in 2001 when he took a position at Manzanita Elementary. He coached high school boys basketball in Grace, Idaho, for three years and then with Pima for six where he led the Roughriders to the state tournament twice, including the 1996 semifinalist squad.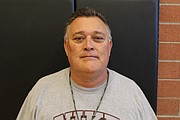 "We love Kingman so much. This is where we decided to settle down," Arave said. "We want to retire here."
The Lady Vols have always been young. That made for a shallow bench, which Arave thinks can be rectified this season.
"Where we're going to improve most is on the bench," the new coach said. "The bench is going to be stronger, and I want to go 10-men deep. They're going to get time, and I'm going to need them."
Arave wants to take the Lady Vols in the direction of an up tempo team, and a quality bench will be necessary.
The coach wants the Lady Vols to win the 4A Grand Canyon Region. That's not an easy task with the likes of Flagstaff, Coconino, Bradshaw Mountain and up-and-coming Mohave.
"In order to get to state, you have to win region. It is going to be tough," Arave said. "The girls have shown they can play with anyone in Mohave County, now we've got to prove we can with the schools outside of Mohave County."
When the season is all said and done, Arave has three things he hopes his players can say about their experience with him as their leader.
"First and foremost, I want them to say they had fun," he said. "I want them to have felt safe, and I want them to say that they learned and grew and became better basketball players."
Lee Williams opens the season hosting Parker at 7 p.m. Nov. 21.
BOYS & GIRLS SOCCER
Ray Tapia resigned after last season when he led the Vols to a 10-6-2 record and a first-round appearance in the Division IV State Championship tournament. That opened the door for another hometown product, Gabe Otero, to take over the Vols.
Otero was raised in Kingman and graduated KHS in 2000. He spent his freshman year in 1996 on what was the South Campus of KHS, and now 20 years later he's back downtown coaching Lee Williams.
"My job is get them ready for the game and during the game," Otero said. "I don't want my job to be correcting mistakes, but I want my job to be motivating them through the adversities of the game and succeed."
Otero has spent 18 years coaching since he coached a NAYSL soccer team when he was in high school. He knows how to build competitive teams and players as shown by his success developing the Kingman Red Racers traveling soccer program. His son, Gabriel, has been labeled "Elite" by U.S. Youth Soccer.
On the surface, it seems Otero has a simple coaching philosophy.
"I tell the kids that the entire focus is to get better every day," he said. "They know that means both on and off the field. Regardless the outcome of games, if we have daily growth – both on and off the field – then we'll have a successful season."
The new boys soccer coach is interested in building a strong and competitive program, but he's equally interested in playing a role in developing solid, young men. Additionally, he's more than willing to use his soccer connections around the state and country to get those players seeking to play at the next level the opportunity to do so.
"I truly believe that sports are a way to teach and educate our youth in life lessons," Otero said. "If they tell me they're a better man because of the program, then I'll be happy."
And he's not putting up a wall in regards to the Lady Vols soccer team. He and new girls soccer coach Jessica Brinkerhoff are working together to make the Lee Williams soccer program complete.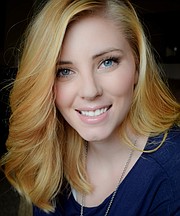 "She's doing an amazing job," Otero said. "She's extremely dedicated to these girls."
Brinkerhoff came to Kingman over a year ago with her husband, Jess, who is the athletic trainer for Lee Williams. She's played soccer her entire life and first coached a 12U team when she was in high school in Utah.
"I've spent most of my time playing, but coaching is a fun, new experience," Brinkerhoff said. "It's been fun to watch the girls grow and see their confidence grow."
Instilling confidence into the girls on her roster is her top priority.
"I'm more concerned about the person and the student first, and then the athlete," she said. "Teaching them the things they need to be successful and in life, too. We'll be doing charity events and things like that, too."
Whether it be new skills learned on the pitch or gaining confidence in the classroom, Brinkerhoff wants to see her players mature into healthy young women.
"I want them to say they grew from last year and learned what success really is," the new coach said. "Them growing is what I want them to take away from this year."
The Lee Williams boys team opens its season hosting Kingman at 6 p.m. Nov. 29, and the Lady Vols are at Kingman that same time and date.
Lee Williams has new coaches bringing new hopes to the campus, and odds are the Volunteers will be well served.
More like this story
SUBMIT FEEDBACK
Click Below to:
This Week's Circulars
To view money-saving ads
For as little as $3.49*