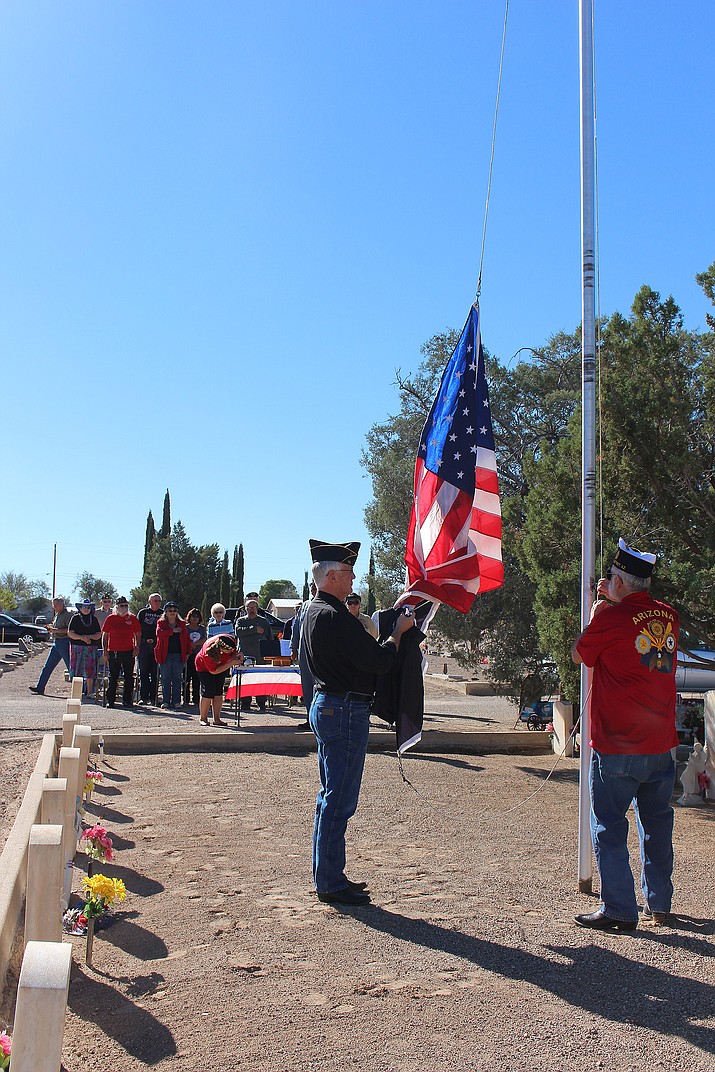 Photo by Bob Leal.
Originally Published: November 13, 2016 6:03 a.m.
See Related Special Section
Click the link below to view our annual Veterans Edition:
KINGMAN – Around 35 people showed up at the Mountain View Cemetery on Friday to participate in a ceremony hosted by American Legion Post 14.
"I want to thank everybody for being here. Thanks for coming," said Rick Van Horn, commander of Post 14.
After Ernie Faris and Steve Seney raised the flag, fellow Post 14 Chaplain Rebecca Faris led a prayer, which was followed by the Pledge of Allegiance and the singing of "The Star-Spangled Banner."
Members of Post 14 read a few offerings, and Van Horn, in the event's most poignant moment, invited those in attendance to come up to the podium to remember loved ones who served. And plenty took him up on the offer.
When asked what Veterans Day meant to him, Van Horn said, "It means, hopefully, not just a day off work.
"It brings us together, both the ones that are here and the ones that have passed. I'm glad to be here."
When asked about the American Legion, Van Horn Horn said, "I'm very proud to be a member of the American Legion. I have been a member for 10 years, and it's a good organization. It's tough to get the younger generation involved in anything.
"We're not the only ones going through this. The Eagles, the Moose, the Elks, everyone's trying to get the younger generation involved in their organizations.
"But we just need to work harder at that and get them in."
Jimmy Boblett gave his take on Veterans Day. "It signifies the freedoms we enjoy every day, the sacrifices of our soldiers in the past and present. It also kind of helps to unite people again, because this country is so divided.
"Our veterans paid the price for our freedom, and it's the least we can do to show our appreciation."
He said he was thankful for "all branches of our military. God bless you all."
"We think it's important that people do serve their country, and honoring veterans is just a way that we can appreciate them," said Chaplain Faris.