The death penalty in Mohave County
For County Attorney Matt Smith, sending the worst of the worst to death row is sometimes necessary
By
Aaron Ricca
|
ARicca2
Originally Published: November 13, 2016 6:02 a.m.
KINGMAN – To kill or not to kill?
On one hand, horrific, depraved crimes raise heated passions in favor of the ultimate punishment. Opponents, on the other hand, argue the death penalty is fundamentally flawed because of the arbitrary manner in which it is meted out – primarily affecting minorities and the poor.
There are no easy answers.
For Mohave County Attorney Matt Smith, whose office has two death penalty cases on the docket – both involving men who allegedly committed two of the most shockingly brutal crimes in the county's history – the process is emotionally exhausting, but morally important.
Smith sat down with The Kingman Daily Miner to discuss how Arizona's death penalty works and highlighted capital cases with ties to the region.
He's been prosecuting in Mohave County for nearly three decades, and he has the memories to prove it.
How to Land on Death Row
There is only one crime that makes a defendant death penalty eligible: First-degree murder. And not just any garden-variety killing, but those particularly disturbing ones that demonstrate a depraved state of mind. They are called aggravating factors and there are a number of them. Some, such as the victim's youth or advanced age, are routine. Acts committed in an especially cruel fashion make a crime death penalty eligible, as does previous convictions, particularly for other violent acts; and whether the killing was due to financial or property gain to name a few.
"If none of them apply, you don't have the death penalty as a possibility," Smith said.
Mitigating factors, things that lessen a defendant's culpability such as child abuse, intoxication, age and mental deficiencies can get a defendant off the hook – insofar as life in prison without parole is likely preferable to death row.
Executions are carried out at Florence State Prison, where lethal injection is the method most often used on those occasions they are carried out. Those convicted prior to November of 1992 have the option of lethal injection or gas inhalation. No executions were performed from 1962 to 1992.
There is a moratorium on Arizona's death penalty, which is currently under review following the botched 2014 execution of Joseph Rudolph Wood III, who was convicted of murdering his estranged girlfriend, Debra Dietz, and her father, Eugene Dietz, in 1989.
Wood did not succumb after he was given what was thought to be a lethal dose. He took two hours to die and over that time he was given 15 times the standard dose of the three-drug mixture. Wood gasped and snorted for more than an hour after the drugs were injected. The process should've taken about 10 minutes.
The potential for such incidents is only one reason why a capital case is tightly regulated by law. Once a person has been indicted in a death penalty-eligible case, the county attorney's office has 30 to decide to seek the death penalty. Once they do, and the case ultimately goes to trial – usually no less than a year or two after an arrest is made – prosecutors and defense attorney must select a "death qualified" jury. Those jurors are informed of the capital case and understand they might be asked to render a death verdict at the end.
If there is a first-degree murder conviction the aforementioned aggravation and mitigation sentencing phase begins. The prosecutor first has to land a conviction from the jury, and then the jury has to unanimously agree on the aggravating factors for death to be imposed. If the jury doesn't agree unanimously, a life (with or without parole) sentence will be considered and in the case of a hung jury, the attorney's office can retry the penalty phase. The entire case can be retried on a hung jury. A second attempt at a death sentence with a hung jury will grant the defendant an automatic life sentence.
Capital cases are more expensive in respect to both time and money. A defendant gets two lawyers and both sides expend funding for expert witnesses in most cases. More time is needed to screen the larger amount of potential jurors. Those expert witnesses are brought in often have to travel. Travel to interview witnesses and associates of the defendant also comes into play. If a death sentence is handed down, a lengthy and prohibitively expensive appeals process automatically kicks in.
High Profile Cases
There are currently seven convicts on Arizona's death row with ties to Mohave County. Two are from Kingman (one has been executed), out of 120 death row inmates.
Charles Ellison, 51, sentenced to die for the 1999 strangulation murders of Joseph Boucher, 79, and Lillian Boucher, 73, of Kingman. His accomplice, Richard Finch, was sentenced to life without parole.
Brad Nelson, 44, sentenced to die for the 2006 bludgeoning death of Amber Graff, his 14-year-old niece, in a Kingman hotel room.
Frank Anderson, 68, and Bobby Poyson, 40, for the August 1996 bludgeoning and shooting murders of a Golden Valley family.
Graham Henry, 68, on death row for the June 1986 murder of Roy Estes, an elderly Las Vegas man. Estes' throat was slit and his body left in the desert.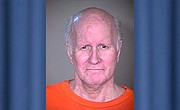 Roger Murray, 46, on death row for the May, 1991 shotgun slaying of Dean Morrison and Jackie Appelhans of Grasshopper Junction.
His brother and accomplice Robert Murray was also on death row, but died of untreated cancer while on June 28, 2014.
Danny Lee Jones, 52. Sentenced to die for the March, 1992 murders of Bullhead City residents Robert Weaver, Weaver's seven-year-old daughter Tisha and Weaver's grandmother Katherine Gumina.

Daniel Wayne Cook was executed Aug. 8, 2012, at the age of 51, for the July 19, 1987 murders of Carlos Cruz-Ramos and Kevin Swaney in Lake Havasu City.
He is the only Mohave Country resident to be executed since Smith's time with the county attorney's office 29 years ago. He has been county attorney for nearly 14 years.
Smith wouldn't go into details regarding the ongoing cases of Darrell Ketchner and Justin James Rector.
Ketchner, 58, is accused of the July 2009 fatal stabbing of 18-year-old Ariel Allison and the shooting and stabbing of her mother Jennifer.
According to Smith, that case needs to be retried due to improper testimony offered at Rector's first trial. Ketchner never denied committing the crime.
The sole focus of his defense rested in avoiding the death penalty.
Rector could face the death penalty if he's found guilty of the alleged 2014 murder of 8-year-old Bella Grogan-Cannella in Bullhead City.
The Human Toll
Smith became emotional when he described the frustrations for his office and defense attorneys.
"These are usually just horrendous crimes," he said. "This is the worst of the worst."
Smith is often mystified over Nelson's decision to kill his young niece.
"How can you not think 'why did he have to kill her'," he asked. "She had her whole life ahead of her." Nelson has since asked that his appeals be dropped and he be put to death.
The Ellison case also took a toll on the longtime prosecutor. Smith described what must have been absolute helplessness for the Boucher couple that had lived a meaningful life into their 70s before their murders.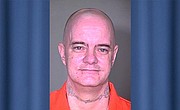 "What could be your worst nightmare?" he said. "They're in a nice neighborhood, married over 50 years and wake up in the middle of the night and have two intruders in (their) house.
"As he died, he knew his wife was getting killed at the same time that he's getting killed in the worse way possible, being suffocated by a pillow in his own house," Smith continued. "While his wife of 50 years is going through the same thing and there's not a damn thing he can do about it."
"I still get pissed off when I think about that," he said.
He recognizes the extreme grief and anger for the surviving family members, but knows the legal teams have an emotional load to carry.
"To think about being involved in a (capital) decision is a weighty thing to have on your mind," he said. "Somebody could actually end up being killed over this."
Smith has kept his personal feelings locked away during some of those trials. He listens to both the prosecution and defense in hopes they make the right decision.
"To me, it's a matter of just doing my job," he said. "You do the job and do the analysis as a first-degree murder. I let (the defense) present everything and let the jury do their job and decide.
"That's my philosophy about it.
"My feeling is that there are some cases that are so egregious that the person does not deserve a plea agreement," he said. "I think the cases we discussed today are those types of cases."
Smith said Chief Deputy Attorney Jace Zack, who retires this month after 31 years with the attorney's office, prosecuted Graham Henry not long after taking the job. Smith knows Zack won't be with the office to see that execution carried out.
He believes he won't see it carried out either.
More like this story
SUBMIT FEEDBACK
Click Below to:
This Week's Circulars
To view money-saving ads
For as little as $3.49*