Donald Trump's campaign promises
Originally Published: November 14, 2016 10:19 a.m.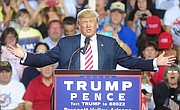 The president elect – not selected by the majority of American people – made many, many promises. Following are just a few. It is suggested all supporters of Donald Trump print out the list and check off each promise as they are fulfilled.
Build a wall along the southern border that's taller than any ladder on Earth and one foot taller than the Great Wall of China. This will be "the greatest wall that you've ever seen." Oops. Trump now says, "…part of the wall will be fence."
Mexico will pay for the wall and if they refuse we will impound all payments taken from the wages of illegal immigrants, cut all foreign aid, institute massive tariffs, and cancel visas for all Mexicans. (Nope, Mexico is not going to pay for a Trump wall, uh…fence.)
"If I become president, we're all going to be saying, 'Merry Christmas' again." (How this will be enforced remains another mystery).
Get rid of Common Core (despite it not being a federal program), give local school districts more control and eliminate the Department of Education. (Yeah, that "local control" worked really well in Colorado City.)
Do away with the Environmental Protection Agency. (Oh, good, dirty water, dirty air, and polluted earth, ad infinitum.)
Get rid of Obamacare and replace it with something "terrific" and is "so much better, so much better, so much better." "We will repeal Obamacare on my first day!" (No plans for replacement have been released as 21 million American face the loss of their health insurance.) Oops – Well, so much for that "promise" Trump on Nov. 11 admitted that he will retain the pre-existing condition portion and keep progeny on parents' policies until age 26. That is impossible unless there is also a mandate that everyone will have insurance, because when you tell companies they must insure high-risk people they will demand they be paid.

Rebuild the country's aging infrastructure - especially bridges and airports that look like they belong in a third-world country - for one-third of what the United States is currently paying for such projects. (How? Foreign materials and workers?)
Defund Planned Parenthood. (Cutting health care access for millions of Americans.)
Demand the use of the term "radical Islamic terrorism." (But most of what we deal with are "radical Christian domestic terrorists.")
Institute a "total and complete" shutdown of Muslims from entering the United States. (Yeeeaahhh, that's "really working with everyone.")
Ban Syrian refugees from entering the United States and deport all who are already living here. (Hmm, how?)
Set up constant surveillance of all mosques in the United States. Trump also said he's in favor of closing "some" mosques. (Some? Based on…?)
Create a database of all Muslims residing in the United States. (Why?)
"I will never take a vacation while serving as president." (Trump already admits he won't be the actual president so…...)
Prosecute Hillary Clinton for her use of a private email server while serving as secretary of state. (Why not prosecute Rice and Powell for the same violations?) "I will appoint a special prosecutor to investigate crooked Hillary!" and "I will put Crooked Hillary in jail immediately." Oops – Trump told the Wall Street Journal, "It's not something I've given a lot of thought…"
Make medical marijuana available to all patients in the United States.
Stop spending money on space exploration.
Pick Supreme Court justices who are "really great legal scholars." (Based on what parameters?)
Strengthen the military so that "nobody's going to mess with us." (The constant spending on the military is what brought the Soviet Union down.)
"Bomb the s--- out of ISIS, bomb oil fields, seize the oil and give the profits to military veterans who were wounded while fighting."
arget and kill the relatives of all terrorists.
Bring back waterboarding and use interrogation techniques that go even further than waterboarding. Even if such tactics don't work, "they deserve it anyway, for what they're doing." (How very Christian, Jesus will be so proud.)
Refuse to call Iran's leader by his title. "I guarantee you I will be never calling him the supreme leader... I'll say, 'Hey baby, how ya doing?' I will never call him the supreme leader."
Find great generals and do not allow them to go onto television news shows to explain themselves. (Huh?)
Drop that "dirty, rotten traitor" Bowe Bergdahl out of an airplane into desolate Afghanistan without a parachute. (Yeah that'll show him justice is just a joke in Trump's America!)
Bring back jobs from China, Mexico, Japan and elsewhere. (Where Trump products are manufactured.)
"I will be the greatest jobs president that God ever created." (Highly unlikely)
Students at Wofford College in South Carolina will all have jobs at graduation.
No state dinner for the president of China, instead I'll buy him "a McDonald's hamburger."
Tell Ford Motor Co.'s president that unless he cancels plans to build a massive plant in Mexico, the company will face a 35 percent tax on cars imported into the United States. (Wanna bet?)
Force Nabisco to once again make Oreos in the United States. And bully Apple into making its "damn computers" and other products here. (Yeah...and force all Trump products to be made in the USA…oh, wait.)
Impose taxes of 35 percent on imports into the country. (Except for Trump products)
Cut the budget by 20 percent by simply renegotiating. (Renegotiating what?)
Get rid of the Dodd-Frank Wall Street Reform and Consumer Protection Act. (Surprise!)
Simplify the U.S. tax code and reduce the number of tax brackets from seven to four. The highest earners would pay a 25 percent tax and corporations would pay 15 percent.
No longer charge income tax to single individuals earning less than $25,000 per year or couples earning less than $50,000.
Ensure all Americans can still afford to golf. (Huh)
"On my first day in office, I will get rid of gun-free zones at military bases and in schools."
Fix the background check system used when purchasing guns to ensure states are properly uploading criminal and health records. (Sounds like he'll be messing with the Second Amendment.)
Allow concealed-carry permits to be recognized in all 50 states.
On the first day in office, terminate all of President Obama's executive orders.
Deport the almost 11 million immigrants illegally living in the United States. (How?)
Continue allowing low paid foreign workers to come to the United States on temporary works visas because, "…they are the only ones who want to pick grapes."
End birthright citizenship.
Propose a constitutional amendment to impose term limits on all members of Congress. (Now, that is really funny!)
Require for every new federal regulation, two existing regulations must be eliminated.
Lift the restrictions on the production of American energy reserves, including shale, oil, natural gas and clean coal.
Cancel billions in payments to U.N. climate change programs
Cancel every executive action, memorandum and order issued by President Obama.
Remove more than 2 million criminal illegal immigrants from the country and cancel visas to foreign countries that won't take them back.
Establish an Affordable Childcare and Eldercare Act, allowing Americans to deduct childcare and elder care from their taxes.
"I will do away with all lobbyists." Oops – he is already saying he will hire lobbyists to fill positions in his administration.
BREAKING NEWS (11/13) – Trump concedes that the issue of gay marriage is settled law stating, "It's irrelevant because it was already settled. It's law. It was settled in the Supreme Court. I mean it's done." And yet somehow he feels that a Supreme Court decision from over four decades ago is not "settled law."
Now be sure and keep track of each promise and how he follows up. Make multiple copies because you're going to barf on them.
More like this story
SUBMIT FEEDBACK
Click Below to: