Veradt caught up in Vietnam's infamous Tet offensive
Honoring All Who Served
Rick Veradt
Originally Published: November 14, 2016 4:59 p.m.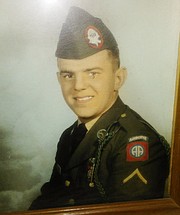 Rick Veradt
U.S. Army
August, 1966-October, 1969
Bronze star with "V" device and oak leaf cluster
Purple Heart
Air Medal
Combat Infantryman Badge
Vietnam Service Medal
Meritorious Unit Emblem
Vietnam Campaign Medal with 7 battle stars
Presidential Unit Citation
Valorous Unit Citation
Meritorious Unit Citation
National Defense Medal
Good Conduct Medal
I was a young, naive 17-year-old fresh out of school. I did not want to be at home and did not want to go to college.
On Aug. 19, 1966, I was sworn into the United States Army. Then it was off to Fort Ord in Northern California. By the end of November I was 11c, a mortar man.
While going through infantry training, I was told I qualified for Officer Candidate School. I signed up. While awaiting my orders I assisted in the training of new soldiers. I also took the test for the Army Airborne and passed. I canceled O.C.S. and headed for Fort Benning, Ga., to learn how to jump out of airplanes. It was the most rigorous thing I had done in my life.
After jump school, I was sent to Fayetteville, N.C., and the historic 82nd Airborne Division, where I was promptly made a finance clerk. So much for all that infantry and mortar training. Around September of 1967, we got the word that the second and third brigades of the 101st Airborne Division would be heading to Vietnam to join their brothers in the first brigade. The only problem was lack of manpower. Problem solved. A large portion of the current soldiers in the 82nd were shipped off to Fort Campbell, Kent., to fill the depleted ranks. No more finance for me. I was put into an infantry company as a rifleman.
I was placed in Charlie Company of the 2 d Battalion of the 501st Infantry (c/2/501), where I met the most terrifying and brave man I would ever know: First Sgt. Robert Cook. I arrived at my unit and was told to report to the day room and see "Top," as most first sergeants were known.
Myself and another trooper entered the room and saw Top chewing on two other troopers. Top was about 5-foot-9 and weighed in at a solid 190 or so. His skin was so black it was almost blue. He looked evil.
When he was done getting a piece of those troopers butts he looked at me and growled: "Lets see your orders, son." He saw my last name and said, "How do you say this?" But before I could answer he said Vee-rat. Is that your name?"
I did not answer. I was too scared. I was probably 20 pounds too heavy and he could see it. He said, "You look like a little fat rat son. That's your name from now on. You are Fatrat!" To this day it is still my nickname. I wear it proudly.
From then on we trained and trained hard. We did not know when we were going, but we knew it was soon. The second week in December we loaded aboard C-141s and headed west. On Dec. 14, we landed at Tan Son Nhut Airfield just outside of Saigon.
As I exited the plane the heat, humidity and stink hit me like someone slamming a brick into my chest. We were loaded on transport trucks and taken to Cu Chi, home of the 25th Division, which hosted us for about a month and a half. Cu Chi, as we learned later, is famous for its network of tunnels. You can even go in them today.
Just buy tickets for the tour.
The highlight of Cu Chi was the Bob Hope tour. I will never, ever forget that miniskirt Raquel Welch was wearing! Other than that, it was training and more training.
All in all life was boring. Had not seen "Charlie" and had some very minor contact. At the end of January, 1968, everything changed. Tet was what they called the Vietnamese New Year and there was traditionally a ceasefire during that period.
Somebody forgot to tell the North Vietnamese.
We were not sure what was happening but top had us pack up everything, board C-130 aircraft. We headed north to a destination still unknown. We landed in a place called Phu Bai in what was known as "I Corps, the furthest point north in South Vietnam.
I remember being nervous when we landed, not because of where we were but because it was the first time I had ever landed in a C-130. Every other time I was in one I jumped out of it.
Navy seabees trucked us out to Camp Evans, home base of the 1st Air Cavalry. We set up a perimeter outside the wire and spent a few days there before we were trucked to another area. I heard that after we left, Camp Evans got everything but the kitchen sink thrown at it by the North Vietnamese Army, or NVA.
We were dropped at a new location and Top had us drop everything we didn't need right where we stood. The next time I saw that area – many months later – it was a sprawling military base known as Camp Eagle. After Top and his NCOs inspected every last man we headed out.
Within a couple of hours it hit the fan and we were in combat. We would stay in almost constant contact with the enemy for months. And these were not Viet Cong. They were trained and battle-tested NVA. They were good but we were better.
As it turned out we, along with the 1st Cavalry, had been attached to the Marine Division that was in Hue. Our job was to keep the enemy from reaching its own forces in Hue with food, ammo and personnel.
It was a nonstop running battle with us doing the chasing. About the fifth day out, Feb. 18, we flushed a bunch of NVA out of a wood line and into the open.
As we engaged them my squad leader and I took a flanking position. At that moment the NVA opened up from another wood line to our north. We dove for cover behind a small berm and I heard my squad leader yell, "Veradt, I'm hit."
I looked to my left and saw blood coming from his nose. He stared at me for a few seconds and then closed his eyes, dead. I started to call for a medic and stopped. It was too late and there was no sense in a medic risking his life for a dead man. I took over squad leadership and got everybody back to a safe position.
The battle raged on and eventually the enemy fled. He was our only K.I.A. He was the first person I had ever seen die, but he was not my last. We battled enemy forces for several days after that and eventually entered Hue and gave the Marines some much-needed relief. We even got to do a little fighting in the city itself.
After the retaking of Hue, our job became one of search and destroy. Units from the battalion fanned out over the countryside. When contact was made we came running, either on foot or by chopper.
A lot by chopper. One day faded into the next as we traveled Quan Tri Province searching out our enemy. Casualties were high for our enemy, but we suffered, too. By the time I left the field our casualty rate was around 70 percent of what started out as 125-plus jump qualified ass-kickers.
I was later told my company suffered the highest casualty rate in the battalion. We got replacements, but most were not jump qualified and it just wasn't the same. In late summer, Top started working his magic and rotated the old-timers out. He would find rear area positions and place men in them. One day, I was in the field and the next day I was polishing a general's boots and brass. A week after that, I was transferred south to Bien Hoa Army Base, where I was placed in a Headquarters unit – as a finance clerk. Go figure.
Between extending my tour for an early out, which I never got, and extending even longer for a 30day leave home, I spent another year in country. I also managed to go to Australia, China, Singapore and Malaysia.
Aside from occasional rocket attacks, life wasn't bad. I got a job working at a club and made some extra money that I saved for coming home.
And coming home was another story.
If I had known what awaited me, I might have stayed there. I had a job offer for civilian work as a bodyguard.
Friends from high school were now college educated, or should I say indoctrinated, now shunned me. Only a few close friends welcomed me. It wasn't until 2006 that someone other than a family member or close friend thanked me for serving.
But I have managed to put all that behind me. They had their view and I had mine. Let it go. The people I have trouble with are the draft dodgers who fled to Canada. I will never ever forgive them for their cowardly act. I saw too many good and brave draftees die.
Believe me, they did not want to go to Vietnam.
By accident I found the sister of my late squad leader on the internet about six years ago. She and her family had many questions about his death and I answered the best I could. We still communicate to this day.
I found one other vet that I knew via the internet, but he succumbed to cancer and our planned reunion never happened. I am a type 2 diabetic from being exposed to good old Agent Orange while in the north of the country. I have also been diagnosed with peripheral neuropathy and am losing feeling in my legs and hands.
Vietnam: The war that keeps on giving! It took two marriages and a diagnosis of PTSD before I got things right. My wife and I just celebrated our 26th anniversary.
In the past people, have asked me about fighting a war. They asked me if it was exiting, was I afraid, what was combat like and numerous other questions.
I answer very few, but I surprise many people when I tell them I am anti-war. If you talk to soldiers from 1941 forward, they will tell you the same thing. In fact if the people that command the armed services had their way, there would probably be very little war.
War is made by politicians on both sides of the aisle. If you think it is made by a particular party or administration, you are sadly mistaken.
They all have to cooperate to have a war. If generals and admirals decided when and where to fight, there would be a lot less fighting and it would be over sooner.
Military people throughout the world know what war does. Believe me, there would be less of it. I could give reasons and examples, but it would be too political and that is not what this is about.
I am now just an old "has been," living a fairly quiet life and looking at turning 68 in a couple of months. Next year my wife and I are going back to Ohio where some of the kids and grandkids and a great grandchild live. After a couple of days my stepdaughter, son-in-law ( A Gulf War Marine ), wife and I will drive to Washington, D.C., and I will visit the Wall. There are 32 friends there that never got out of their 20s.
I look forward to seeing them.
More like this story
SUBMIT FEEDBACK
Click Below to:
This Week's Circulars
To view money-saving ads
For as little as $3.49*