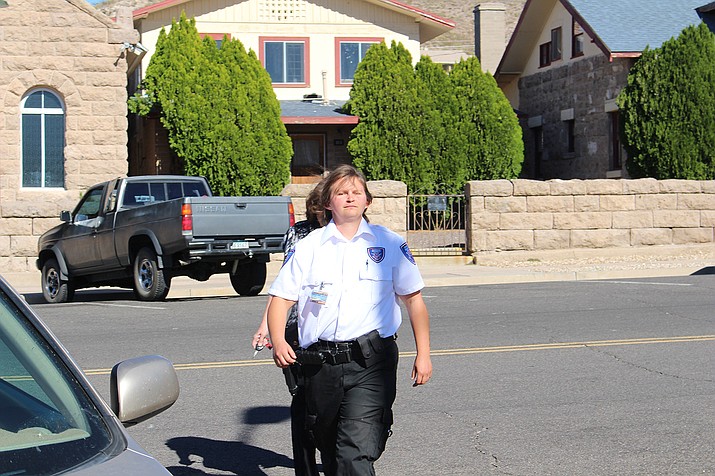 Photo by Bob Leal.
Originally Published: November 15, 2016 6:03 a.m.
(Editor's note: The Kingman Daily Miner chose to publish this story in hopes it might improve awareness of First Amendment rights and hopefully prevent other Mohave County citizens from illegal search and seizure violations.)
KINGMAN – A court security officer inappropriately hassled a Kingman Daily Miner reporter for photographing defendant Diane Maxine Richards on her way to a hearing at Mohave County Superior Court Monday, taking his camera and deleting the pictures.
The unnamed security officer, employed by a company contracted by Mohave County, approached reporter Bob Leal after he had taken about eight shots of Richards walking up to the courthouse.
The officer demanded that Leal delete the photos, and when Leal said he didn't know how, the officer reportedly said he'd do it for him. Leal handed over the camera and the officer deleted the photos.
"I was blown away," Leal said. "I did not want to cause trouble, but at the same time, I knew I had certain rights. But I didn't want to get arrested. They said, 'You're on county property.' That made me give up the camera."
News media are not allowed to photograph courtroom proceedings without the judge's permission, but photography is generally permissible outside the courthouse.
Leal covered the hearing of Richards, a former Kingman city employee accused of embezzling more than $1.1 million, and returned to his car to get his camera.
He said another security officer, this time a woman, "ran interference" for Richards, blocking his view as he attempted to photograph Richards getting into her car after the hearing.
Leal returned to the courthouse with Daily Miner Editor Rich Thurlow, who asked for the officer's name. He wouldn't give it, and referred Thurlow to Court Security Manager Robert Lawless, who then took the reporter and editor to his boss, Superior Court Administrator Kip Anderson.
Anderson said it sounds like Richards said something to the security officer about the reporter taking photographs.
"Knowing we don't allow photos in the building, he took that as not allowed outside. That is not our policy," Anderson said. "The only thing we're concerned with is impeding the flow, or if defendants are in custody, we make sure the camera is back away from them."
Anderson apologized to Leal and Thurlow, and said he'll write a report on the incident with corrective action recommended.
"The security guard took the camera and that shouldn't have happened," Anderson said. "That was inappropriate. We respect the newspaper and what they do."
Related Stories