Latest addition to electric car museum collection was a labor of love for late owner
Originally Published: November 29, 2016 6:04 a.m.
KINGMAN – It's a tight fit, but Josh Noble was able to squeeze the all-electric 2002 Toyota Rav4 into the Route 66 Electric Vehicle Museum last week at the Powerhouse Visitor Center.
The vehicle was donated by Heidi Locke Simon in memory of her late husband, Greg, who was a passionate advocate for electric cars and solar energy.
She included articles and photos to be displayed alongside the electric vehicle, along with a short movie trailer about the car. It arrived with a magna charger that's fully functional for demonstrations.
"We are basically now at capacity with 21 exhibits," said Noble, tourism director for the city of Kingman. "We might be able to bring in another small golf cart-sized vehicle, but that's about it."
He's got a Chevy S-10 electric pickup truck sitting in the parking lot, and other electric vehicles displayed at places such as Ramada Inn, Mr. D'z Diner and Grand Canyon Caverns.
Kingman City Council tentatively allocated land next to Lewis Kingman Park to expand the museum, but no funding has been identified.
The museum, which was established during the International Route 66 Festival in 2014, is honored to receive the donation, said Roderick Wilde, executive director of the Historic Electric Vehicle Foundation.
The Simons, from Mill Valley, Calif., actually purchased two of the Toyota Rav4 electric vehicles, and their daughter is learning to drive in an electric car, fulfilling one of Greg Simon's dreams, Wilde said.
Toyota sold only 328 Rav4 EVs in 2002, so it's a rare model, he noted.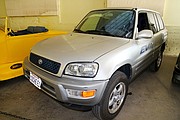 "They were built to satisfy California legislation that said you had to sell so many EVs in order to sell gas cars in California," Wilde said. "General Motors leased their EV-1s and took them back and crushed them, which is detailed in the movie, 'Who Killed the Electric Car?'"
The sticker price on the car was $42,000, with rebates of $9,000 in California and a $4,000 tax credit from the IRS. Toyota sold more of the vehicles than were planned for production, and had to assemble the last few dozen from spare parts.
The nickel metal hydride (NiMH) batteries lasted a long time, and there are a few Rav4 EVs on the road with more than 100,000 miles. The one donated to the Route 66 Electric Vehicle Museum has 150,000 miles.
A Rav4 EV recently sold on eBay for nearly $50,000.
Chevron, which purchased the rights to the NiMH battery from General Motors in 2000, funded a lawsuit that won $30 million from Toyota and stopped production of the Rav4-EV. Toyota then switched to lithium.
Times have changed and there's no way to "put this racehorse back in the barn," Wilde said. "EVs are here to stay and will be a very significant part of our future transportation."
"It's kind of cool because it's a turning point in (electric vehicle) history," Noble said of the Rav4. "It's getting a lot of interest. People are stopping by and looking at it.
More like this story
SUBMIT FEEDBACK
Click Below to: