Draconian rules scare off homebuyers
CC&Rs pit neighbor against neighbor
Originally Published: October 7, 2016 6:03 a.m.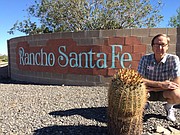 KINGMAN – Selling Kingman is tough enough for local real estate agents. The last thing they need is ridiculously sticky rules driving away business.
Realtor Mike Wagner has come to realize this truth.
Wagner doesn't expect much sympathy for missing out on commissions because of CC&Rs that have killed three home sales for him in the last few months, but it's also thwarted the deal for the sellers and people who want to buy a home in Kingman.
That's happening in a number of Kingman subdivisions, Wagner said, including Rancho Santa Fe, Southern Vista, Ridgeview Ranch, The Ranch at Long Mountain, Walleck Ranch, Hualapai Shadows, Kingman Golf Course Estates, Fountain Hills Estates and The Villas.
They all have CC&Rs, or covenants, codes and restrictions, but they have no homeowners association to enforce them. As a result, the only way to get your neighbor to follow the rules is to sue them, and that pits neighbor against neighbor, Wagner said.
"Being from California, we associate HOAs as neighbors who get power-mad and want to control things, what color you can paint your house, where you can park your boat," said Wagner, a Realtor with Re/Max Prestige Properties.
"But we always have an HOA to enforce them, and how do you know if you have an HOA? You pay HOA fees. It makes sense that if you have rules, you have a body to enforce them."
That's not the case in Kingman.
Scaring Buyers
Without an HOA, the list of restrictions provided to the buyer by the title company during escrow closing is meaningless, Wagner said.
"Until one of your neighbors decides to enforce them by taking you to court," he added.
Another problem is that many of these CC&Rs are so strict, they're scaring off buyers such as Karl Ridder of Victorville, Calif., who wants to move here because gun laws are more reasonable than California, but loathes the expense of a legal battle over homeowner rules.
Ridder looked at a beautiful $280,000 home in Rancho Santa Fe, made a full-price offer and backed out because he was concerned about the house next door, which had a cargo shipping container in the backyard, a classic car on jacks and assorted junk around the property.
He read the part in the CC&Rs that prohibits refuse piles, wrecked car bodies, weeds or "other unsightly objects," and called an attorney who told him there's no way to enforce those rules.
"Nobody was enforcing the CC&Rs," Ridder said in a telephone interview. "I wanted to raise the wall more than 5 feet so I can't see the junk, but I couldn't raise the wall."
Rather than risk a war with his neighbor, Ridder pulled out of the deal.
"So who's losing?" Wagner asked. "I'm losing a commission, but the seller is losing a sale."
The idea behind CC&Rs is not a bad one. The goal is to increase property values by keeping neighborhoods looking prim and proper, and Wagner said he's certainly in favor of that.
"There's nothing worse than a home that is not well maintained, with weeds growing high in the front yard, a boat parked in the street out front and a collection of junk in plain view," he said.
OVER THE EDGE
However, developers and attorneys have taken it to the extreme, Wagner feels.
Ridder considered buying another home in Southern Vista, but had a problem with a rule about keeping garage doors closed except for entering and exiting. What if he wants to work in his garage? He was also allowed just one 8-foot-by-8-foot shed. What if he wants a 10-by-10 shed, or two sheds?
Another rule states that no automobile or truck shall be parked on property from the front line of the home to and including the street longer than 48 hours.
"What is that area? I call it a driveway. It surely could be interpreted that way," Wagner said. "So, no parking in your driveway for more than 48 hours. It's crazy. Some of these rules are ludicrous."
One Kingman subdivision's CC&Rs prohibit converting a garage to any use that prevents the storage of two standard automobiles.
"What about all my junk that I need to store somewhere?" Wagner asks.
Other overreaching CC&Rs discovered by Wagner:
Vehicles cannot be parked overnight on the street without permission from the architectural committee.
Trash receptacles must be placed on the street for collection not to exceed 12 hours prior to scheduled pick-up times.
No tree may be removed from any lot without written approval of the developer.
Solar panels must be ground-mounted and shall not exceed 5 feet in height.
No part of a home shall be used for any business.
Only curtains, drapes and shades may be installed as window covers.
WHAT TO DO
Wagner says he can certainly understand why a buyer – especially one from lawsuit-happy California – would not want to purchase a home with some of these restrictions.
Again, the intention of CC&Rs is good, Wagner said, but things have become overly exaggerated and urgently need to be re-examined.
"The intention of CC&Rs is let's all maintain our homes so all property values go up, and one can argue that in areas where there are no CC&Rs, neighborhoods are spotty," he said. "There's a nice house, there's a garbage dump. It varies. But to tell me I can't cut down one of my own trees, I can't park in my driveway … it seems that is infringing on my very rights."
Wagner suggests homeowners obtain a copy of CC&Rs, if applicable to their community, and read them carefully. Terms are usually in 10- to 20-year segments from the date of recording with automatic renewals.
If you don't like what you read, get together with neighbors and start complaining to whomever is in control of them, he said.
"You might just find that someday in the future when you decide to sell your home, a potential buyer may be scared off once he reads them. It's already happened to me three times this summer," Wagner said.
SUBMIT FEEDBACK
Click Below to:
More like this story