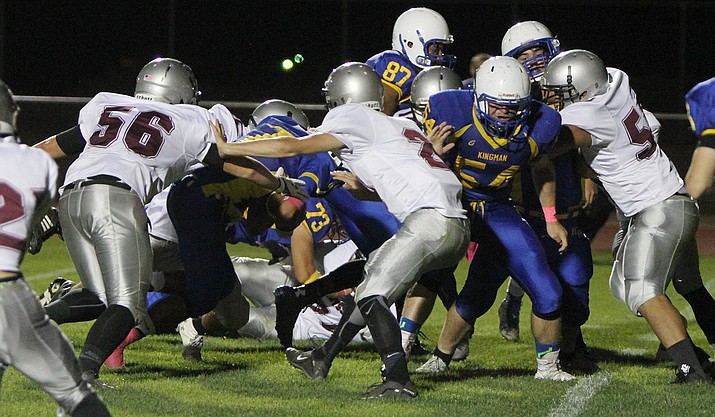 Photo by JC Amberlyn.

Originally Published: October 16, 2016 6:01 a.m.
KINGMAN – Two incredibly long streaks are over, kaput, finished. The Kingman Bulldogs snapped their 18-game home losing streak dating back to 2013 and their 16-straight losing streak going back to the opening game of last season when they held on to beat Buckeye Odyssey Institute 30-26 Friday at KHS.
"It feels unbelievable," said junior quarterback Miguel Salinas. "It's a dream come true right now."
Salinas led the read-option attack for Kingman (1-7, 1-2 3A West), which Odyssey (2-6, 0-3) could not solve. The Bulldogs rushed for 310 yards, as Salinas tallied 207 yards on 26 carries, and running back Austin Reed carried the ball 24 times for 103.
"We beat them up front," said KHS coach Cam Wierson, who earned his first career win. "Our O-line did a superb job, and Salinas and Reed took care of business."
Salinas scored all four touchdowns, ran for one 2-point conversion and passed to Damon Heidorf for another. Reed also ran in a 2-point conversion.
"The guys did a great job tonight," Salinas said. "I'm proud of all of them."
The game began 50 minutes late due to Odyssey experiencing bus problems in Wikieup. Once the Minotaurs arrived, the game took on the flavor of a high-scoring affair.
Kingman went three-and-out on its opening possession and Odyssey then scored on its very first play from scrimmage when quarterback Brandon Eveland connected with Keiser Hoffman on a 54-yard touchdown pass. The point-after was blocked and Odyssey held the early lead, 6-0.
Things began to look dicey for Kingman when on its next possession the Bulldogs fumbled and the Minotaurs recovered. However, the Bulldogs defense stiffened and forced Odyssey to turn it over on downs on the Kingman 49-yard line.
Two plays later, Salinas galloped 52 yards for his first touchdown to tie it up. The 2-point run failed.
Odyssey struck again with Eveland and Hoffman connecting for a 43-yard touchdown. The conversion failed, and the Bulldogs defense then kept the Minotaurs quiet until late in the third quarter.
"We just kept fighting," said linebacker Gage McKowan. "This is how we should have been playing all year long."
Kingman bounced right back with a seven-play, 57-yard drive that Salinas ended with a 3-yard TD run. His pass to Heidorf was good, and the Bulldogs led at the end of the first quarter, 14-12.
Salinas added his third TD with 1 minute, 48 seconds left in the first half on a quarterback sneak from the 1/2-yard line on fourth-and-goal. He ran in the conversion, and the Bulldogs led at halftime, 22-12.
The Bulldogs defense kept Odyssey out of the end zone on five consecutive possessions. In the meantime, Kingman's second possession of the third quarter was for 75 yards on nine plays. Salinas had a 54-yard TD run called back for holding, but ended the drive with a 34-yard score. Reed's conversion was good and Kingman moved ahead by 18, 30-12.
Then it became hang on time. Odyssey scored on a two-yard quarterback keeper with 17 seconds left in the third but failed on the conversion attempt and narrowed it down to 30-18.
After Kingman was forced to punt early in the fourth quarter, Odyssey went on a nine-play drive down to the Kingman 8-yard line. Eveland had to leave the game with what appeared to be a lower-back injury and freshman backup Andrew Caufield couldn't get the Minotaurs into the end zone. Odyssey turned it over on downs.
"Defensively, coach (Greg) Chastain did a great job out-scheming them," Wierson said. "We had guys making great tackles and plays. An awesome group effort on defense."
Kingman ate up more than four minutes on the next possession but had to punt it away. Caufield took the Minotaurs down the field on a 96-yard drive in five plays. Odyssey made the 2-point conversion, and the Bulldogs' lead was down to 30-26 with 1:15 remaining.
Kingman avoided near catastrophe when Salinas fumbled, but the Bulldogs jumped on it and recovered. After a little chaos trying to kill the clock, Kingman had its first win of the season.
"I'm overjoyed for our kids," Wierson said. "Especially the ones that went through our hellish summer conditioning program."
Kingman next plays at No. 14 River Valley (6-2, 2-1) Friday. The Dust Devils were beaten by No. 11 Northwest Christian (6-2, 3-0) two days ago, 34-10.