5 things to do in Kingman in the fall
Nature ready to accommodate your itch for the outdoors
Originally Published: October 25, 2016 6:03 a.m.
KINGMAN – As the frost forms on the pumpkin, the opportunity to explore Arizona's great outdoors without fear of heat exhaustion and dehydration opens up like doors to heaven.
And heaven is exactly what outdoor enthusiasts discover in many of the canyons, mountains, rivers, wilderness areas, caves and mining ghost towns that define the Southwest region.
The fall season is a great time to plan a trip to the Grand Canyon, Arizona's geological jewel, or head up to Mohave County's own Hualapai Mountain Park for a night of camping and day of hiking.
Whether you're a first-time camper, amateur explorer or looking for a scenic hike, there's no better way to take in the fall colors and fresh air than venturing into the rugged expanse of the northwest Arizona desert.
Here are five ideas to enjoy fall:
Camping
At Hualapai Mountain Park, you can rent a cozy cabin for about $80 a night ($95 on weekends) and spend time in the pinion pines underneath a starry sky. It's nice to go camping and get a good night's sleep, too.
Most of the cabins come with a double bed and either a fireplace or wood stove, and some of the larger bunkhouses offer sleeping accommodations for up to 12. Or you can sleep in a teepee for $35.
About 70 tent campsites are available in three separate areas. Grills and picnic tables are included at all sites, and a limited few have water.
The park offers 10 miles of trails for hikers, mountain bikers and horse riders. At about 6,000 feet, the trails provide spectacular views of the desert below and distant mountain ranges, and higher elevations are home to mule deer, elk, mountain lions and a variety of birds.
About 6,000 people visited Hualapai Mountain Park in September, and only a few cabins are left for weekends for the next couple of months, said County Parks Administrator Harold Barton. Weekday availability is better, he said.
If you want to get out of Kingman, pack up and head to Davis Camp in Bullhead City. It's not so cold that you can't enjoy kayaking on the Colorado River. Jet ski rentals are also popular. Day use is permitted at Davis Camp's picnic areas, swimming beaches and boat launch.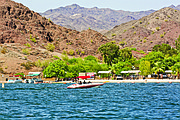 At night, the park offers RV spaces with full hookups and plenty of campsites along the beach for tents. Eight shower buildings are located throughout the park and laundry facilities are available.
If you're willing to drive a little farther, head down U.S. 95 to Cattail Cove State Park, a lakeside retreat between Lake Havasu City and Parker that's a favorite for camping. The 2,000-acre park features more than 60 campsites, along with a beach, boat ramp and fishing area.
Mine tours
Mining goes back 150 years in Mohave County, and there are more than 1,100 patented mines tucked into these rocky hills, although the number of active mines is roughly 200, according to the U.S. Geological Survey.
Trek on over to Chloride and Oatman to dig into an important slice of Arizona history.
Mineral Park mine in Chloride is accessible from U.S. 93 at mile marker 59, where a paved road takes you 4 miles to Mineral Park. The mine is on private property, but it's still possible to check out ruins of the original town site outside of the mine.
The post office opened in 1872, and the town had everything necessary for mining, including an assay office, five smelters, hotel, saloon, stores and a restaurant.
Homestake Mine in Oatman is a small mining operation open to visitors from 10 a.m. to 5 p.m. Saturday and Sunday. The mine was blasted and tunneled around 1860 in the Hardy quartz vein. There was simply not enough gold in the vein to continue operations.
Take Oatman Highway to Silver Creek Road (about one mile east of Oatman), follow Silver Creek Road for about 3.5 miles until you see the sign for Homestake Mine.
Hiking
Cooler mornings are prime time for hiking and there are a number of excellent trail systems in Mohave County. You'll be climbing rugged mountains, crossing deep canyons and ascending juniper-covered hillsides.
There's always Hualapai Mountain, but try some trails off the beaten path like Dolan Springs Trail, located about 7 miles east of U.S. 93 on Pierce Ferry Road, between 13th and 15th streets.
You'll hike 6 miles of Mohave Desert trail leading through an alluvial fan of washes with plenty of interesting wildlife, geology and native vegetation. Make sure to take plenty of water, as there is none on the trail. Shade ramadas have been installed to provide relief from the sun.
The Cerbat Foothills Trail is part of an 11,300-acre recreation area managed by the BLM. Human occupation of the area dates back 4,000 years with the Cerbat, Cohonina and Hualapai people. In 1871, the U.S. Army built a military post at Camp Beale Springs.
The land is home to mule deer, Sonoran Desert tortoise, coyotes, foxes, Gambel's quail and other small mammals, birds and reptiles. Plants include yucca, beavertail, prickly pear, creosote and mesquite. It's 5 miles north of Kingman on U.S. 93. The trailhead is about a quarter-mile north of the Highway 68 interchange to Golden Valley.
Other trails in the Kingman area include the Cherum Peak Trail, Crack in the Mountain Trail, Aspen Springs Trail, and White Rock Canyon Trail.
Chasing Colors
From the aspens in the mountains to the cottonwoods along the creeks, there are countless places in Mohave County to take in the scenery and capture the spectrum of fall colors.
The county is comprised of about 13,400 square miles of land with some 150 canyons within its boundaries, which include a portion of the Grand Canyon. There are three rivers, one creek and four lakes formed by dams on the Colorado River and Bill Williams River.
You can't go wrong visiting places such as Lake Mead National Recreation Area, Grand Canyon-Parashant National Monument, Kaibab National Forest, Fort Mojave and the Hualapai Indian Reservation, all within portions of Mohave County.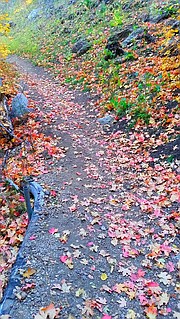 If you're up for wild adventure, try the 40,000-acre Wabayuma Peak Wilderness about 20 miles southeast of Kingman.
This area is dominated by the 7,600-foot Wabayuma Peak. The elevation change covers a broad spectrum of ecosystems. The lower reaches contain Sonoran and Mohave Desert vegetation. Upper elevations are covered with Arizona chaparral vegetation and ponderosa pines.
From Kingman, take I-40 east about 23 miles to Exit 25, which is the exit to Yucca and Alamo Road. Follow the signs for Alamo Road, proceeding 3.2 miles. Turn left on Boriana Mine Road and go about 10 miles. The wilderness boundary is on the left. A high-clearance, 4-wheel drive vehicle is recommended for the trip.
Cruise Route 66
People come from around the world to drive this historic highway known as the Mother Road from its reference in John Steinbeck's classic novel, "Grapes of Wrath."
The 160-mile stretch from Seligman to Topock is the longest remaining part of Route 66, and it's a big draw for road rallies and fun runs during the summer.
But it's a lot more enjoyable ride when temperatures are in the 60s and 70s, and there are lots of cool places to stop along the way like the Grand Canyon Caverns, Petrified National Forest and Meteor Crater.
Stop off at the Hackberry General Store for a Route 66 root beer and souvenir. Visit the old Hualapai Indian Day School in Valentine on the Hualapai Indian Reservation. And if you have time, spend a night in the famous Wigwam Motel in Holbrook.
Of course, the Historic Route 66 Museum in the Powerhouse Visitor Center in Kingman will give you a history lesson with all the memorabilia that makes Route 66 such an integral part of America's great migration West.
More like this story
SUBMIT FEEDBACK
Click Below to:
This Week's Circulars
To view money-saving ads
For as little as $3.49*