Kingman's signature event is right around the corner
By
Aaron Ricca
|
ARicca2
Originally Published: September 4, 2016 5:59 a.m.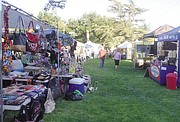 KINGMAN – Two popular festivities will combine to form a massive fun storm later this month.
The Andy Devine Days Professional Rodeo Cowboys Association Rodeo will be accompanied by the downtown Best of the West on Route 66 Festival. Born out of the International Route 66 Festival of 2014, the Best of the West Fest committee wanted to host an event unlike anything else in Kingman. The event runs Sep. 23 and 24.
Vendor Coordinator Nick Bowers came up with the grand scheme, and says the results will be a smorgasbord of parades, live music, car shows, water slides, bull riding, rock wall climbing, and even a tractor pull.
Bowers has been working with numerous event organizers to find unique events unlike downtown has seen before. He's hoping the attractions entice people of all ages to attend.
"We want the whole family to come down here and be stimulated," he said. "Downtown has a whole bunch of potential. Kingman is dying for events."
The Kingsmen are hosting their 100 Club VIP party for the rodeo elite Sep. 23. Tickets are $125 and will include four tickets to the rodeo, two tickets to the 100 Club party with food and drink from local restaurants. For the first time rodeo organizers will host a live country music street concert on Fourth Street between Oak and Spring streets. Music starts at 6 p.m., opening with the Briana Payne Band and later highlights singer-songwriter Shari Rowe's first performance in Kingman. Performers will take a short break for a live western auction.
"We strive to bring quality, family friendly entertainment to Kingman at a reasonable price," said Kingsmen President Ray Cullison.
The best seating will be inside the VIP party, but there will be plenty of space outside to bring a chair or sit on the steps of city hall for the concert. Non-VIP guests will have access to a public beer garden with a limited selection of drinks for purchase.
Kingman Chevrolet Buick Mechanical Bull Rides will be set up near the street concert
Friday evening and again Saturday in the Floyd & Co. parking lot between noon and 6 p.m. Free rides and a split-pot riding competition are available for participants 18 years and older.
The Hualapai River Runners Monster Water Slide at the corner of Fifth and Beale Street next to The Garlic Clove will provide relief from the sun.
The 24-foot slide is free and open to anyone willing to escape the heat and get a little wet.
Gear up and take the 25-foot Hualapai Mountain Resort Rock Climbing Wall on Beale Street near Kingman CrossFit and House of Hops.
It's free Friday evening and following the parade on Saturday.
Unisource Electric's Vendor Row will have arts, crafts and food lined up along Fourth Street from Andy Devine Avenue to Oak Street, 4 to 8 p.m., Friday and all day Saturday. This is the first time vendors will be present near Saturday's Andy Devine Days Parade route, which runs 10 a.m. to noon along Beale and Oak Streets.
The Kingman Visitor Center Toddler Playground and Obstacle Course at the Little Red Schoolhouse will provide a shady preserve for kids looking to expend some energy.
Tractor Supply Co. will hold a tractor pull competition Friday night.
The competition consists of five-person teams displaying brute strength to pull a tractor down Beale Street between Floyd & Co. and Black Bridge Brewery.
There will be plenty of space for spectators. Registration is $100 per team and the deadline is Sept. 12 and limited to 12 men's teams and 12 coed teams. Winning teams will receive half of their respective category's registration fees. Teams can register at www.bestoftheweston66.com.
Anderson Ford & Lincoln Best of the West Car Show will start lining up classics and cruisers on Beale Street from Third to Fifth Streets following the parade. Car show registration is $20 per car. Forms are available online.
The car show will end with awards at 6 p.m., just as the 32nd Annual Andy Devine Days PRCA Rodeo kicks off at the Mohave County Fairgrounds.

Beale Celebrations will be holding a tourism and travel exposition Friday and Saturday.
About 20 different tourist attractions from around the state including Bearizona, Keepers of the Wild, Grand Canyon Caverns and Route 66 Association of Arizona be on site to promote their organizations.
"The whole point of Best of the West is to bring folks to Kingman," said Beale Celebrations Manager Jamie Taylor.

"So many people aren't aware of what we have.
"We can educate the locals as well as the tourists about what there is to do here."
It's a weekend that only comes once a year.
Andy Devine Days is a PRCA Turquoise Circuit Rodeo taking place the final qualifying weekend for cowboys to earn points for the National Finals Rodeo.

Every year it draws serious bronc and bull riders.

An old fashioned barn dance follows the Saturday night show. If you miss the evening rodeo, there's a second performance Sunday at 1 p.m.
"There are so many fun and free things going on this year" says Festival Chairman Josh Noble. "We asked for this festival and sponsors lined up and said 'yes, Kingman needs this.'"

This Best of the West Fest title sponsors are Kingman Regional Medical Center and Grand Canyon Resort Corp.
For more information, or to get involved, visit the website www.bestoftheweston66.com, or make a telephone call to the Kingman Tourism Department at 928-753-6106.
What You Need to Know
Activity registration deadlines:
Andy Devine Days Parade
Sept. 9 at Kingman Parks and Recreation Department.
Tractor Pull: Deadline to sign up is Sept. 12 at Kingman Parks and Recreation Department located at 3333 N. Harrison Rd. or online at http://rec1.cityofkingman.gov/ or www.bestoftheweston66.com.
Car Show
Car owners can register in advance and submit forms to the Powerhouse, or the day of (Sept 24) at City Hall starting at 10 a.m.
Free Festival activities: Rock climbing wall, monster slide and mechanical bull have no registration. Waivers required day of event.
Vendors
Almost full. Sept. 9. Contact Nick Bowers at 928-716-8052.
Beale Celebrations Travel Expo
Free to the public. Vendor booths are $50. Sept. 22. For more info, contact Jamie Taylor at 928-530-2056 or jamie@justmarketing.com.
Kingsmen 100 VIP Club
Cost is $125 for the party, four tickets to rodeo, two tickets to VIP party. Food and drink from four local restaurants. Tickets available at event, or go online at www.kingmanrodeo.org.
More like this story
SUBMIT FEEDBACK
Click Below to: