Euros hungry for Route 66 experiences
Author markets Mother Road, Kingman on trip
Jim Hinckley
Originally Published: September 6, 2016 6:02 a.m.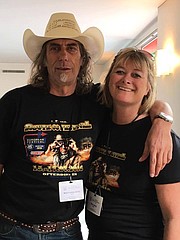 KINGMAN – The European Route 66 Festival in Ofterdingen, Germany provided an unprecedented opportunity for the marketing of Kingman and the surrounding area as a vacation destination. However, the festival was only one opportunity that I had for the marketing of Kingman during the two-week trip.
Initial discussions pertaining to a possible European Route 66 Festival took place informally during the 2014 Route 66 International Festival in Kingman. This event which included an internationally televised conference was attended by representatives and members from numerous European Route 66 associations, an historic first.
At de Prael in Amsterdam during a reception hosted by the Dutch Route 66 Association in January 2015, discussions continued during an informal meeting. Shortly afterwards Wolfgang and Anja Werz of the German Route 66 Association announced that this organization would host the event in July 2016.
Advisory group
In addition, on the first day of the European Route 66 Festival this organization hosted a meeting of representatives from Route 66 associations to establish an international advisory group that could assist the Route 66: The Road Ahead Initiative Steering Committee in the development of coordinated marketing and promotion of the entire Route 66 corridor. As a volunteer board member for this organization, I served as its representative.
The Route 66: The Road Initiative, an entity being developed to serve as a modern equivalent of the U.S. Highway 66 Association originally established in 1927, and its initial steering committee resulted from a 2013 conference of Route 66 stakeholders held in Anaheim, Calif., that was facilitated by the National Park Service Route 66 Corridor Preservation Program and World Monuments Fund. This past spring, in the state of Illinois, articles of incorporation as a non-profit organization were filed, and on Aug. 8, the IRS recognized the Road Ahead organization as a 501(c)(3) not-for-profit.
The invitation
Opening the conference on behalf of the city of Kingman, I presented an invitation to Dries Bessels, chairman of the Dutch Route 66 Association and 2015 inductee into the Route 66 Walk of Fame, and his wife Marion to participate in the parade at the Best of the West on Route 66 Festival in September. They accepted and will be in attendance.

Resultant of the conference, initiatives have been launched to create a Belgian and Italian Route 66 Association. In addition, an enthusiast in France will participate in the international advisory group to disseminate information in that country. After conclusion of the festival, arrangements were facilitated for inclusion of the Route 66 associations of Brazil, Canada, and Japan in the advisory group.
In addition to the conference, I made a well-attended presentation that weighted heavily on Route 66 in the Southwest. Extensive media coverage of the festival, most of which noted my attendance from Kingman, provided additional marketing for the city.
Materials from Kingman tourism, Ramada Kingman, Grand Canyon West, Hualapai Tribe, Kingman Circle, Greenwood Village, Brunswick Suites, and Beale Celebrations were shipped to the event organizers. They allowed me to set up a promotional table in the conference center that included a display of Route 66 photographs, and an information table that I manned at the main event.
I was also able to share area video, including the traditional Hualapai dancers at the Powerhouse Visitor Center that proved popular, event information, and provide website addresses, phone numbers, and contact information to individuals planning to travel Route 66 or visit the grand circle of national parks.
Big crowd
As it was an open event, attendance numbers are not available. However, the festival grounds were full, overflow parking was needed, and for several blocks at the festival entrance one half of the street was closed for motorcycle parking as well as displays.

Members of the Dutch, German, Swiss, and Czech Route 66 Associations were in attendance. Also in attendance were Route 66 enthusiasts from the England, Scotland, France, Spain, Belgium, and the Canary Islands.
The festival also provided an opportunity to finalize area arrangements for the solo Route 66 bicycle ride by Zdnek Jurasek, president of the Czech Route 66 Association and inductee into the Route 66 Walk of Fame. Jurasek will be staying at Grand Canyon Caverns and Ramada Kingman during this trip, gathering material for his third documentary, and making regular reports from the road for a Czech television company.
There were also unexpected opportunities for area promotion. As examples, one couple was interested in finding employment or a business opportunity along Route 66 in the Southwest, and another individual inquired about availability of historic motel properties for purchase.
American dream
Prior to the festival, it was my pleasure to speak on the American dream as made manifest on Route 66 at Goethe Gymnasium, a high school in Bensheim. After the presentation and discussion, I provided the students and attending teachers with Kingman souvenirs provided by Ramada Kingman. This opportunity was facilitated by Melanie Stengele, a teacher who has visited Kingman on several occasions.
66 symbolism
During my travels, I was quite surprised by the prevalence of Route 66 symbolism. As an example, I flew with Condor Airlines, a German company that now offers direct flights from Las Vegas to Frankfurt. At the time I printed the boarding pass, their website was dominated by a Route 66 New Mexico shield.
In the small rural village of Dittelsheim, a garage was decorated with Route 66 signs. The car belonging to the owner of an electronics firm had customized "AZ 66" plates, and a Route 66 shield from each state along that highway corridor on the rear bumper.
Resultant of my attempts to speak German it was often obvious that I was American. As a result, on numerous occasions, in the airport, at hotels, in cafes or restaurants, and in other locations, this provided opportunity to initiate conversation.
Many of the people I spoke with knew of Kingman, either as a result of the song Route 66, or from trips to the Grand Canyon. As some of these people had plans to drive Route 66, or to fly to Las Vegas and visit the Grand Canyon or parks in the grand circle, I provided passes to Kingman museums, discount coupons for lodging at Grand Canyon Caverns, and other promotional materials as well as website or contact information.
Route 66, however, was but one component that allowed for area promotion. Throughout the trip I noted that when the Route 66 shield was used for promotion, it was often accompanied by a scene from the American southwest as a backdrop. Additionally, at the Route 66 festival, a group similar to the Oatman gunfighters was in attendance providing visitors with campfire coffee.
Promotion of the Kingman area did not end with the trip. Almost immediately upon my return, I was a guest on Morning Scramble in Prescott. The topic of discussion was the international interest in Route 66 as made manifest by the festival in Germany and the Bessels of Amsterdam participating in the parade in Kingman.
From the perspective of promotion and marketing resultant of festival attendance, funding for the trip to Germany by the City of Kingman, which consisted of reimbursement for my airline ticket and five days of expenses based upon the federal government per diem schedule was an investment in its future. Additional sponsorship for the trip was provided by Grand Canyon West Resort, the Route 66 Association of Kingman, Inc., and 66 Development LLC owned by Werner Fleishman.
If I were to summarize the trip it would be that Kingman is in a very unique position when it comes to tourism marketing and promotion, and utilization of that tourism as a catalyst for economic development. In fact, in consideration of our internationally recognized association with Route 66, our proximity to the grand circle, our unique attributes that include 160-scenic miles of Route 66, Hualapai Mountain Park, and an opportunity to offer visitors adventures that include spelunking, mountain biking, and white water rafting, Kingman has an almost unlimited opportunity for development as a vacation destination.
Hinckley, a Kingman resident, is a Route 66 expert and the author of several books.
More like this story
SUBMIT FEEDBACK
Click Below to: