Form, function keys to rehab at KRMC
Originally Published: September 12, 2016 5:59 a.m.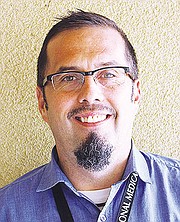 KINGMAN – If you happen to get injured, the Kingman Regional Medical Center's Outpatient Rehabilitation Center is ready to get you back up to speed.
"I look at each and every one of my providers as a movement expert. We look at a person based on pain and dysfunction, and we figure out what's not moving right," said Chris Bowers, PT, DPT, the clinical coordinator for the center.
"We help them restore that function, whether it be a knee problem, hip problem, balance issues," said Bowers.
The center provides physical therapy, occupational therapy, speech therapy, audiology services, and physiatry and chiropractic services, said Bowers.
"All of that together makes up our therapy services," he said.
Helping with concussions
The rehabilitation center is kicking off a pilot program in conjunction with Kingman Academy of Learning that will treat patients involved in sports where there is a chance of participants suffering concussions.
"We're doing baseline testing on them," said Bowers. It includes a balance test, online cognitive screen and a functional movement screen.
"Those three pieces come together and give us a baseline assessment," said Bowers.
"If an athlete does get involved with a concussion for whatever reason, we can now put them back under the same conditions and retest them and see where the discrepancies are, and then use our therapy to get them back to that normal function again," said Bowers.
Educating the public
KRMC is planning two education seminars free to the public. The first is the Fall Prevention Day, planned from 8 a.m. to noon Sept. 22 in the Del Webb Wellness Center's Hualapai Room.
There will be free balance screenings to determine if people are at risk. There will also be literature available for attendees to use to determine if there are risk factors in their homes.
"We did it last year and it was a pretty good turnout," said Bowers. "We'd like to see if we can get some of that information back out to the public."
Another event, the Joint Camp, is slated for early 2017. Those who are having or thinking about elective joint replacement will find all the answers to their questions.
"We educate them on what to expect from the time they see their surgeon from the time they get discharged from the hospital to what to expect doing the outpatient rehabilitation," Bowers said.
"They can already pre-prepare for getting those muscles stronger leading up to surgery, speeding the healing process and getting them back on their feet a whole lot sooner," said Bowers.
Motivation is crucial
"Patients need to be motivated when they come through these doors. They need to know that we have a team put together to help them get better, but we can't do that unless we have the cooperation from the patient," said Bowers.
"We try to build a good, strong trust relationship with the patient so they know they are in good hands."
Bowers called it a "good model for patient care." The idea is to create a "culture of comfort," he said.
With all the baby boomers aging, the center is busy working with patients in vestibular issues (balance and dizziness).
"We try to determine where that problem is coming from, and we use a variety of techniques to kind of retrain the vestibular system to function the way it used to," said Bowers.
Also on board is a "sports-minded" therapist who does a lot of orthopedic work such as ACL tears and hip injuries.
"We work very closely with our orthopedic surgeon team on campus," said Bowers.
New clinic ready
Bowers said he is very excited about the Spine and Sports Injury Clinic, which will be up and running soon at the KRMC's Hualapai Campus at 3602 Santa Rosa Drive.
It will have physical therapy, pain management, chiropractic and orthopedic doctors on board to provide "comprehensive care" to patients.
Bowers said the clinic can cut down the time for a medical professional to see a patient, who can "go right in."
Dr. Katie Auer and chiropractor doctor Frank Sinopoli helm the Spine and Sports Injury Clinic.
More like this story
SUBMIT FEEDBACK
Click Below to: