Tigers power past Sedona for 44-13 Homecoming win
Squashed Scorpions

Originally Published: September 25, 2016 6:01 a.m.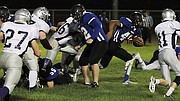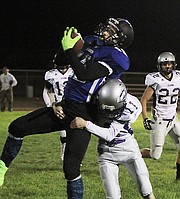 KINGMAN – After seven offensive plays the Kingman Academy football team led 13-0, and it was free roaming from there as the Tigers dominated Sedona Red Rock for a Homecoming Game win Friday at Southside Park, 44-13.
Kingman Academy (3-2, 2-0 2A Central) scored three more touchdowns in the first half that had Sedona (0-5, 0-2) completely dispirited facing a 35-0 deficit.
The Tigers scored the first touchdown on Clayton Holloway's 10-yard run before three minutes of the game had expired. His score was set up when quarterback Kekoa Makawai-Stroup connected with Nate Carter on a 40-yard completion.
Makawai-Stroup was efficient on the night, completing 6-of-9 passes for 193 yards and two touchdowns. His two throwing scores went to freshman Hayven Potter, who had three catches for 105 yards and the two TDs.
"Koa works hard and works his craft. He's got a much stronger arm this year," said KAHS football coach Dan Stroup. "He knows where everything is supposed to be going. He's audibling and changing plays."
Makawai-Stroup is sixth in the 42-team 2A Conference in passing yards with 530.
Makawai-Stroup and Potter connected on 18-yard touchdown for the game's second score, and then again on a 62-yard bomb midway through the second quarter to put the Tigers ahead, 21-0.
"It was a preplanned play and Hayven made a beautiful cut to the left then went back to the post," the quarterback said. "They thought he was on a 15 (yard pattern) but he wasn't. Then touchdown."
Potter, a 6-3, 190 pound freshman, is quickly becoming a favorite target for Makawai-Stroup. He has eight catches for 182 yards and three touchdowns on the season.
"It was a beautiful pass by Koa," Potter said. "We had great blocking for him to get that off."
Senior Jordan McDowell-Seybert continued his dominate play for the Tigers. He rushed for 163 yards on seven carries for three touchdowns and two 2-point conversions. On the defensive side as a linebacker, he had 16 tackles and a sack against the Scorpions.
"Jordan doesn't tire out," said KAHS football coach Dan Stroup. "He's got great stamina."
McDowell-Seybert is second in the conference with 709 yards rushing and third in scoring with 66 points. Defensively, he's second with 92 tackles.
Kannon Butler added nine tackles, freshman Ryan Hurley brought down eight Scorpions, and Khaleel El-Awik had seven. Holloway came down with an interception.
Sedona scored its two touchdowns in the fourth quarter after Kingman Academy had built a 41-0 lead. Patrick Papilli nailed a 25-yard field goal in the fourth for the Tigers.
Kingman Academy faces a stiff region test when the Tigers visit Parker (1-4, 1-1) Friday. The Broncs fell to the Surprise Paradise Honors (4-1, 2-0) Friday in Parker, 27-14.
More like this story
SUBMIT FEEDBACK
Click Below to:
This Week's Circulars
To view money-saving ads
For as little as $3.49*