Luring retailers: Kingman ready to take big leap attracting new retail
Originally Published: April 2, 2017 6 a.m.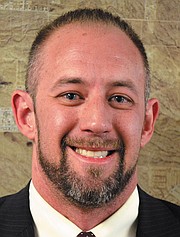 Economic development officials from the city of Kingman will attend a national retail conference in Las Vegas with the demographic tools necessary to land interviews with key retailers.
The International Council of Shopping Centers RECon is expected to draw 37,000 people from the retail industry May 21-24 at Las Vegas Convention Center. It provides a venue for business site selectors and cities to meet.
Last year, the city signed a three-year, $160,000 contract with Buxton, a customer analytics firm based in Ft. Worth, Texas, to help market itself to new restaurants and retailers.
Buxton researched the city's demographics and came up with a short list of businesses that would be a good fit for Kingman, City Councilman Travis Lingenfelter said.
The Daily Miner asked the city to provide the list of 20 companies that Buxton identified as a "good fit," but was told that information cannot be released at this time.
Lingenfelter said he was under the impression that retail company logos in the March 21 presentation to the council represented Buxton's initial list of companies "ideally suited" for Kingman.
Among the restaurants that have been bandied about by residents of Kingman are Buffalo Wild Wings, Olive Garden and Applebee's.
"Personally, I think the greatest benefit (of the Buxton contract) in my eyes goes back to employment," Lingenfelter said.
Kingman suffers from a lack of restaurants and retail, amenities that help employers attract middle managers to the area, he said.
Recruiting retailFeasibility of retail development is based on business fundamentals such as population, median household income, growth in new housing units, existing competition, available sites and construction costs.
For example, each new household unit creates demand for about 10 more square feet of retail, and each additional 1,000 square feet of office space calls for 8 more square feet of restaurant space.
Retailers have space requirements. Walmart will be looking for at least 150,000 square feet with high ceilings and docking bays for unloading merchandise, whereas a small business owner may not want more than 800 square feet.
They're looking for high visibility and access from high traffic routes, as well as easily accessible and ample parking, said Bret Borg, president of Phoenix-based Borg Properties.
The company is spending $500,000 to renovate Kingman Square Shopping Center, which Borg said is one of the best, if not the best, retail locations in Kingman.
It's easily seen from Interstate 40 with an exit at Stockton Hill Road, anchored by stalwart businesses such as Safeway and JC Penney and contains a great tenant mix.
"We love Kingman and feel it offers a lot of opportunity for retailers," Borg said.
Kingman Square will have a "refreshed" look when the renovation is completed by this summer, and will add at least one "noteworthy" anchor, he said.
Borg said Kingman has strong demographics and a solid, stable population growth. It's a captive market, with the nearest competition in Bullhead City, a 45-minute drive.
The city promotes a proactive business climate with consistent planning and zoning requirements, he added.
People need to have realistic expectations about retail possibilities in their neighborhoods, said John Restrepo, economist and consultant for RGC Economics in Las Vegas.
Among the challenges for Kingman are lack of quality retail space, traffic congestion in the primary retail corridor along Stockton Hill Road and below-average median income, he said.
Quality of lifeFor some people who are considering moving to Kingman, lack of retail is "almost like a step back in quality of life," Lingenfelter said.
He said Buxton is helping the city preschedule appointments with retailers at RECon, which is absolutely necessary to be effective.
"If the city invests in attending RECon in an attempt to improve the restaurant retail situation in Kingman, then I think it makes sense for the city to invest in Buxton's services to make sure our presentation at RECon is professional," the councilman said.
Matthew Tate, senior account executive for Buxton, said the company is able to determine retailers that have a high likelihood of locating in Kingman based on the demographic data.
Buxton is trying to schedule interviews with retail brand representatives at the Las Vegas convention so Kingman can "sell itself," he said.
Retailers will look for equilibrium between the total amount of spending with the total amount of retail space in Kingman, consultant Restrepo said.
They'll ask three basic questions: How many customers will come into their store? How close by are they? And how much money do they spend?
They also take into account the value of homes in the area, education level of residents and number of people in each household.
More like this story
SUBMIT FEEDBACK
Click Below to: