Kingman: Grabbing A Slice of America
The diners along Route 66, including Kingman's, are all about the experience
Originally Published: April 3, 2017 6 a.m.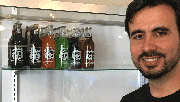 Road trippers who cruise Route 66 are looking for an authentic slice of Americana, something they may have seen in an old movie or read about in a book, and for many, it starts with a hearty meal at one of the '50s-style diners along the Mother Road.
Route 66 diners have taken on a culture all their own, much like the motels, gas stations, souvenir shops and neon signs.
These are places that speak to people interested in discovering what it was like traveling the historic highway during its heyday.
Seldom does a day pass at Mr. D'z Route 66 Diner, known worldwide on travel web sites and social media, without someone from outside the city, outside the state and often outside the country stopping in for a burger, fries and milkshake.
If they've done their research, they'll order homemade root beer that owner Scott Dunton starting making in 1992 when he bought the place, which was originally built in 1938 as a gas station and small café.
The diner is distinguished by its teal-and-pink color scheme and an artistic sign showing a root beer float, cheeseburger, French fries, juke box and Corvette.
"If you had any idea of how many people in Europe and China come here and drive from Chicago to L.A. with their family just to experience Route 66, the real stuff," Dunton said.
"People are not going to come to Kingman for Walmart or Kmart. People are going to come to see history. If you wear a Route 66 hat or T-shirt, people see it and go nuts."
Capturing tourists
Mr. D'z carries the torch for Route 66 diners in Kingman, but it's just one of many restaurants playing upon the nostalgia that keeps Route 66 on the map.
Try Rutherford's 66 Family Diner, formerly the Silver Spoon and one of the first Denny's in the nation.
"How's the food here?" asked Fidel Mercado of Santa Cruz, California, who was on his way to Sedona and the Grand Canyon.
It's your typical American fare with a heavy emphasis on breakfast, which is served with country potatoes or hash browns and choice of toast. The eggs Wellington are well seasoned, the steak fries are perfect and the iced tea is "seriously as good as Starbuck's," according to online reviews.
Paula Cover of Portland, Ore., said they found Rutherford's on Yelp, which is how most people find places to eat in Kingman.
"It was just a side thing on our way to Sedona," she said. "We got to Kingman and looked on Route 66. I've never been on Route 66. It's not what you're used to seeing in other places. That's why it's exciting to come down here."
Josh Noble, tourism director for the city of Kingman, said people are looking for the "mom and pop" places like Mr. D'z, Rutherford's and Floyd & Co., formerly Redneck's BBQ.
A survey of hotel guests showed that more than 20 percent of them want to experience local cuisine to get a "flavor" of the town, Noble said.
It crosses all generations from the Silent Generation who may have traveled Route 66 during their lifetime to Generation Y who are pulling up Yelp and Trip Advisor to see what people are saying about a place.
"I think it's a little piece of history," said Tammy Rutherford, who purchased the restaurant in 2014 with her husband, Brent. "People like to see the past. It's the Mother Road, and you can never get rid of mother."
They decorated the interior with Route 66 photos and memorabilia, added outside patio dining just a few feet from the iconic highway and spiffed up the exterior with Route 66 emblems from each of the eight states it traverses.
Great time
Just off Interstate 40 is the Ramada Kingman, formerly a Holiday Inn, with its Canyon 66 Restaurant and Lounge teeming with 1950s-era memorabilia, including Route 66-themed murals on the outside, photographs of American icons such as Marilyn Monroe, Elvis Presley and Johnny Cash inside and a turquoise 1950s Ford parked under the porte cochere.
General manager Sultan Abbas measures the attraction of Route 66 by the number of menus and glasses carrying the restaurant's logo that disappear from the business.
"You'd be surprised," he said. "Sixty to 65 percent of the guests who come to our hotel are interested in Route 66 and the Grand Canyon. I've been noticing a lot of bikers stop by because we have the old '50s and Route 66 style."
The menu features seven different handcrafted burgers, wings, sliders and pizza. If you're not in the mood for traditional American diner food, there are eight pasta dishes on the Italian side.
Each page of the restaurant's menu displays a Route 66 emblem, and the "Story behind Route 66" is told on the back page.
"They did not drive on Route 66 to make great time," Abbas said. "They drove on it to have a great time."
Other Route 66 dining spots in Kingman include El Palacio Mexican Restaurant, Dambar Steakhouse, Calico's and Hot Rod Café.
More like this story
SUBMIT FEEDBACK
Click Below to: