Is Kingman ready for curbside recycling?
By
Aaron Ricca
|
ARicca2
Originally Published: April 9, 2017 6 a.m.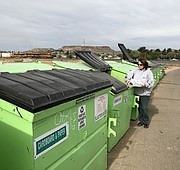 Would a curbside recycling program fly in Kingman?
The issue is gaining steam and Kingman City Council Tuesday swiftly and unanimously approved continued research into initiating a curbside recycling pilot program.
The idea is still in the crawl phase, but agenda wording and input from Rob Owen, city public works director, states that a test program would take place in an undisclosed city subdivision over a six-month period.
The Kingman EZ Recycling program, started in 2008, has saved more than 7,000 tons of waste from going to the county landfill, and saved more than a quarter-million dollars in landfill tipping fees. In 2016 alone, the program saved $18,488. Commodity (recyclables) revenue of $21,219 saved the city and residents nearly $40,000, of what would normally be charged for disposal at the dump.
Owen said the idea has floated around for years, but the Clean City Commission really wanted to get the ball rolling this year. A March meeting fired up plans for a program that could mirror those of Lake Havasu and Bullhead cities.
"I felt if we did a demonstration project and picked one or two neighborhoods, we could see what kind of revenues are generated and (begin) work with private partners," Owen said.
City Councilwoman Jamie Scott Stehly said she's received a ton of feedback from the community in support of the program, and said it would be one more thing to offer citizens in order to be competitive with Bullhead and Lake Havasu.
"It would make a huge difference in the amount of trash (that goes to the dump)," she said. "Eventually that landfill will run out of space and where do we go after that? We should start looking into the future of how we're going to contain that."
There are plenty of factors to consider before the program takes off.
There is no official test program start date, but Owen said it could begin after July 1 for the next fiscal year.
The current recycling program is run by the city sanitation department. The majority of recyclables are taken to local recyclers. Glass is taken to Las Vegas once a month and electronic waste is taken to Phoenix or Las Vegas every other month. Since there is little information as to who would run the curbside program, be it the city or private businesses, there's no way of gauging rates, revenue or savings.

Owen is asking the city for $40,000 to purchase blue 90-gallon recycling containers, but those costs could be greatly reduced by putting a blue lid on the green containers used for trash.
Stehly mentioned the possibility of those lids being made and purchased from a local manufacturer at the airport, "which is another plus."
A citywide curbside program might reduce the need for the seven sites currently used for collection. Transportation, sorting the recyclables and educating the public about a new program are all cards that need to be sifted in the deck.
Pilot program success would be measured by contamination, one of the biggest problems with recycling, participation and how many products are collected. Pending the results, the city could work the costs into the 2019 fiscal year budget.

"That'll be one of the things we'll find out through the pilot program," Owen said.
"I'm glad we have recycling," said Kingman resident Claire Mizell, who was dumping paper in the bins at the Louise Avenue collection site Friday. She used to live in Oceanside, California, where curbside programs are the norm, before moving to Dugway, Utah, where recycling was nonexistent.
"My mom would like it too," she added. "She's 86 years old, and I take all her recycling to the bins."
Josh Crossland, co-chairman of the Clean City Commission subcommittee on curbside recycling and speaking on behalf of the Mohave County Libertarian Party, said he supports the recycling for convenience and environmental factors, but is leery of an obligatory program fee.

"What I don't support is a mandatory program that forces people to pay for something they may or may not use, which is stealing," he said.
He said charges would hurt elderly and low-income families already living on a tight budget.
"Recycling may be the moral thing to do, but it is not moral to force people to pay for services they cannot afford or do not want," he said.
He asked the council to research private sector solutions.

Mayor Monica Gates asked about privatizing the program. Owen said that would require discussions with local recyclers.
"I know we're interested in recycling, but are we willing to pay for it as a community?" asked Gates. She said she's taken a past recycling survey and Owen said the sanitation department is considering sending out another one soon.
He'll work with the Clean City Commission, which meets once a month, to solidify plans.
"We might reach out and have informal meetings with commission members, vendors and other cities to get as much information as we can," he said.
More like this story
SUBMIT FEEDBACK
Click Below to: