Kingman wins thriller in extras
Beau Bearden
Originally Published: April 9, 2017 6 a.m.
KINGMAN – Chris Gunnoe was determined to score the game-winning run for the Kingman High School baseball team.
It wasn't going to be easy for the senior outfielder as the Bulldogs were down to their final out in the bottom of the eighth inning Friday against River Valley.
Gunnoe didn't let that stop him.
He reached first on catcher's interference, took second on a hit-and-run and then stole third and home to give Kingman a thrilling 6-5 victory in extra innings.
"We have a sign for a first-and-third situation," Gunnoe said. "Right when (the pitcher) turned around and threw it to second base, I just took off and I was there. It's always fun winning like that in a walkoff."
The Bulldogs cleared the dugout as soon as Gunnoe crossed home and celebrated their second straight victory.
Even though Kingman skipper Chad Baitinger was glad the game-winning play worked out, he felt that ending was avoidable if the Bulldogs took care of business.
"We should have played a lot better than we did," Baitinger said. "We kind of beat ourselves up in the middle of the game with baserunning and key errors. We didn't give our starting pitcher run support. So it shouldn't have come down to extra innings, but they did respond and that's good."
Kingman ace Rilee Araya yielded just one run on two hits with five strikeouts in five innings of work. Anthony Pinto came on in relief for the Bulldogs, allowing three earned runs on four hits with three strikeouts in three innings.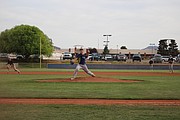 With pitching aside, Kingman appeared to tally the final out of the game in the top of the seventh on a throw to third. The umpire called the runner safe though, extending the contest as River Valley went on to score two runs and force extra innings.
"The game should have been over, but that kind of stuff happens," Baitinger said. "We just can't let the umpires dictate our wins or losses. We just need to go out there and do it ourselves."
Kingman leadoff hitter Mason Telford led the offense with a 2-for-5 performance and a run scored. Brennon Ogle scored twice for the Bulldogs, while Hayden Tanner, Britton Ogle and Gunnoe each tallied a run. Luke Ness finished 1-for-3 with a two-run single and a walk. Araya also tallied a RBI for Kingman as it looks to make a playoff push.
"It's two wins in a row for us," Baitinger said. "I figure if we win out, we should make the playoffs. But we have to win the rest of our games."
The Bulldogs (4-7, 2-4 in 3A West) are back in action at 3:45 p.m. Tuesday as they host region foe Odyssey Institute. Kingman played Parker Saturday in a re-scheduled game, buy results weren't available by press time.
As the season winds down, Baitinger knows now is the time for players to step up at the plate.
"We're still looking for those key hits with two outs and the bases loaded or (similar situations)," he said. "We haven't been getting them, so we just need to keep on grinding."
More like this story
SUBMIT FEEDBACK
Click Below to: