Grand Canyon West: A once in a lifetime experience
A bucket list kind of a day that is only an hour away
Originally Published: April 14, 2017 6 a.m.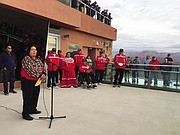 The secret is out.
There's a western rim of the Grand Canyon, one of the seven natural wonders of the world, and it means a lot to Mohave County's economy.
More than 5,000 Hualapai Tribe members, tourists and local residents celebrated the 10th anniversary of the Skywalk at Grand Canyon West last Saturday, which included free tours and lunch at the new Sa' Nyu Wa restaurant.
Grand Canyon West eclipsed 1 million visitors for the second straight year in 2016, and Chief Executive Officer Brian Siegel said he's proud of the remarkable tourism experience his team has created.
Each year, Grand Canyon West has added to the breathtaking experience of stepping onto the horseshoe-shaped glass Skywalk some 4,000 feet above the canyon floor.
Tourists can appreciate the sheer magnificence of the Grand Canyon walls by going whitewater rafting down the Colorado River, then relax with a root beer float at the Hualapai Ranch saloon.
"We've added more restaurants with better food. We've upgraded the Hualapai Lodge along Route 66 and we've continued to add cultural displays to Skywalk," Siegel said in an email to the Daily Miner. "At every turn, Grand Canyon West has offered visitors more for their money."
Visitors come from every state and all corners of the world, with a large contingent from Asia and Europe, Siegel added. In November, Grand Canyon West welcomed two women from Russia as the official visitors topping the million mark.
"They didn't speak much English, but they definitely knew the words, 'Grand Canyon,'" the chief executive said.
Worldwide marketing
Grand Canyon West has greatly expanded its marketing efforts over the past few years, using social media and online advertisement in various languages and countries.
"We don't have to work hard to sell the beauty of the West Rim. If you let people know about Skywalk and the Grand Canyon, that experience alone sells itself," Siegel said.
Saturday's anniversary also recognized 29 years of operation for Grand Canyon West under its parent company, Grand Canyon Resort Corp.
"Once, and not that long ago, where we stand today was nothing more than a dream," said Candida Hunter, chairwoman of Grand Canyon Resort Corp. "I think that vision has been made real and our tribe's success are absolutely worthy of a big celebration."
Hualapai Tribe Chairman Damon Clarke read a proclamation from Gov. Doug Ducey declaring April 8 as Grand Canyon Skywalk Day, and Jack Jackson congratulated the tribe on behalf of Rep. Tom O'Halleran.
The anniversaries are just a moment in time, Chairwoman Hunter noted.
"They're not permanent stopping points, not by any means," she said. "This year, we're striving to do even more. That's why we just opened the Sa' Nyu Wa restaurant here at Skywalk, and why we continue to expand our customer service and our offerings."
10 years of progress
Siegel said 10 years sounds like a long time, but it's really not when you consider how much progress has been made, from building the infrastructure for the $30 million Skywalk to paving Diamond Bar Road and now the restaurant opening.
More than 5 million people have visited Grand Canyon West since Skywalk opened in 2007, including a record 1.2 million last year. At peak season, 10,000 to 15,000 people a day make the trip.
"That's a lot of family memories," Siegel said. "That's millions of moments of awe. That's years of hard work, years of training a great team, and years of creating jobs and revenue to improve our community."
Grand Canyon Resort employs about 800 people, and virtually all of them live, shop and spend their paychecks in Mohave County.
The economic impact of 1 million tourists and what businesses spend with local vendors is about $140 million, corporate spokesman David Leibowitz said.
Admission to Grand Canyon West is about $80, which includes the Skywalk experience, shuttle transportation to Guano Point and Eagle Point viewing areas, tours of Hualapai Ranch and cultural exhibits and lunch at the restaurant.
"The experiences have been priced to be competitive with adventures like Disneyland and other attractions located within a few hours' drive," Leibowitz said. "We think that's a great value when you're talking about a bucket list once-in-a-lifetime experience."
SUBMIT FEEDBACK
Click Below to:
More like this story